South Florida September Events  – September 17 – 21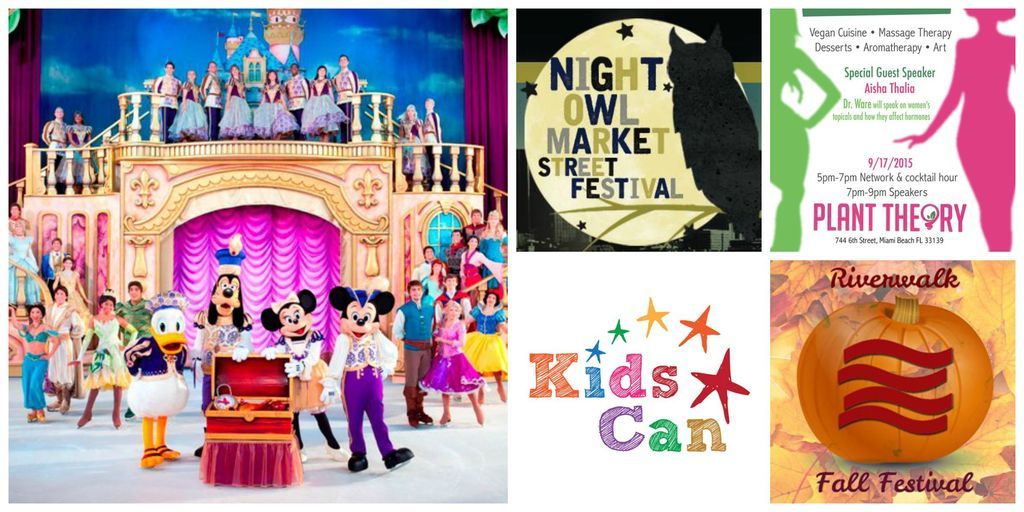 ---
Thursday, September 17th
Disney On Ice Presents Treasure Trove!
Discover endless riches when Disney On Ice presents Treasure Trove Presented by Stonyfield YoKids Organic Yogurt comes to your hometown!  Disney On Ice sets the gold standard with its newest skating spectacular.  Get tangled up in Disney's 50th animated feature with Rapunzel and Flynn and enter the worlds of your other favorite Disney princesses –Tiana, Cinderella, Jasmine, Ariel, Aurora, Belle, Mulan and of course, the one who started it all, Snow White.  Ahoy, Mateys!  Set sail with Peter Pan, the always sassy Tinker Bell and the cantankerous Captain Hook & his pirate pals on an adventure beyond Never Land!  Trek the wilds of Africa with Simba, Nala, Pumbaa and Timon as they discover the true meaning of the 'Circle of Life.'  Tick-Tock!  Tick-Tock!  Don't be late to a very important date with Alice & the Mad Hatter as they march with the Queen of Hearts' Army Of Cards.  Be sure to see this show full of memories guaranteed to last a lifetime.
When: Thursday September 17 – Sunday September 20th, check multiple show times here.
Where: BB&T Center –  One Panther Parkway Sunrise, FL 33323
---
Thursday, September 17th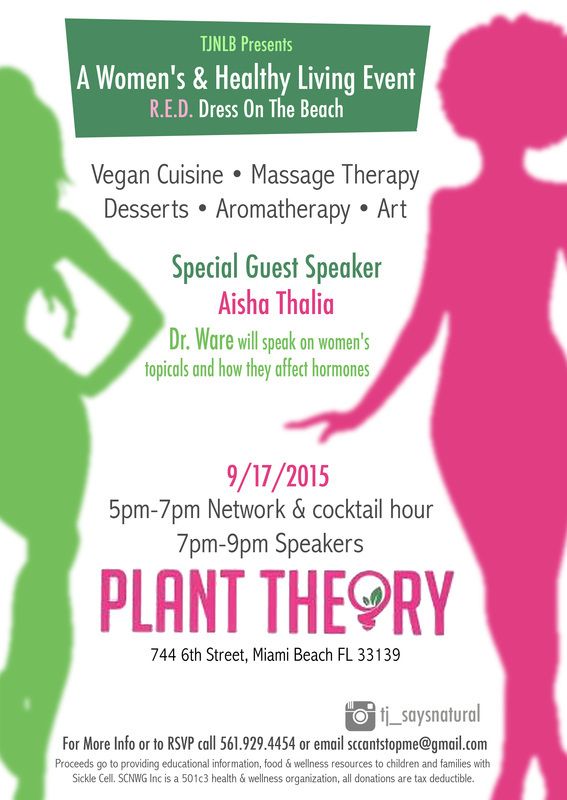 R.E.D. Dress On The Beach!
TJNLB Presents, Women's & Healthy Living Event "R.E.D. Dress On The Beach" An evening dedicated to women, wellness and Sickle Cell Awareness. Dr. Charlie Ware acupuncturist and wellness expert, will speak on women's topicals and how they affect hormones. Vegan and wellness icon Aisha Thalia, will be the special guest speaker for the night. Music brought to you by Silent Revolution Mia.
Hosted by Plant Theory, a vegan restaurant that caters to the taste buds of their visitors, while keeping a healthy approach to the dishes. There will also be massage therapy, desserts, aromatherapy, henna tattoos, well as art for sale. The event is free, to the public, donations accepted at the door.
Where: Plant Theory – 744 6th Street Miami, FL 33139
When: 5-9pm
The Official R.E.D. DRESS After Party will be at Brick House Miami !! starting 9pm.  After Party Details Click Here
---
Thursday, September 17th

Food Truck Invasion – Deerfield Beach!
Trucks scheduled for September 17th
Asaos
Cheesezilla
Conch Shack
Crazydilla
DR Smokehouse
Dough Dough's Donuts
HipPOPs Handcrafted Gelato Bars
Ipek's Wykked Kitchen
La Nostra Pizza
Las Gorditas
Lizzie's Sweet Creations
Lobsta Guy
Lost Chef
Main Stop Grill
Miami Press
Mobile Culinary Kitchen
Original Greek
Palate Party
Paradise Cups
Potato Potato
Sweet Cravings NY
Taco Fresh
Tacos Veracruz
Tip A Roo
Top Fries
Voolavoo
Where: Quiet Waters Park – 401 South Powerline Road, Deerfield Beach
When: 5-9pm
This is a huge outdoor picnic where food trucks of different origins, cuisine and menus prepare food that is cooked to order. It's not fast food, as the majority of the trucks are run by regional chefs. A great deal of fusion cuisine, comfort foods and sweet treats to choose from will be available by over 20+ food trucks. Be sure to bring your folding chairs or blankets to picnic at the park grass surroundings.
---
Friday, September 18th
Cloth Diaper Workshop
Whether you are considering washing at home or want to use a diaper service we've got you covered!
During this workshop, Mother Earth Diapers will:
· demystify common myths and misconceptions about cloth diapering
· highlight the benefits of cloth in detail (financial, environmental, baby's health, earlier potty learning)
· increase your understanding of the different types of diapers and their pros and cons (samples will be passed around for touching and feeling)

· make you feel confident about using cloth diapers whether you're home washing or using diaper service
Class is $25 per couple
To sign up please Call or email:
954.960.3213
[email protected]
Where: Natural Birth Works – 7630 Wiles Road, Coral Springs
When: 7pm
---
Saturday, September 19th
Join us at Flamingo Gardens as we celebrate 25 years as the premier parenting publication in South Florida. As families make their way through the beautiful gardens, they will encounter peacocks, flamingos, birds of prey and a wildlife sanctuary. During the event they will take part in a scavenger hunt, nature crafts and games. Face painters, samples and giveaways, inflatables and Miami Marlins' activities will add to the fun.
Broward Health sponsors their Kids Crown craft activity during the event where kids will decorate gold crowns with animal stickers.
Flamingo Gardens $7 Saturdays!
Saturdays are just $7 in September! If you've never visited Flamingo Gardens, or desire to visit again and bring friends, now is a perfect opportunity. On Saturday, September 5, 12, 19, and 26, 2015, admission will be slashed to $7 for both adults and children ages 3 and up. Plus enjoy $7 specials in the gift shop, and $7 combo meals at the Flamingo Cafe and Tropical Marketplace. Narrated Tram Tour is included. No other discounts or offers apply. Children 2 and under, and members of Flamingo Gardens, are admitted free.
Where: Flamingo Gardens – 3750 South Flamingo Road, Davie FL
When: 9:30am – 5pm
---
Saturday, September 19th

Riverwalk Fall Festival
Join the fun at Esplanade Park as we say goodbye to the summer and welcome fall fun at our inaugural Fall Festival. Spend the day with fall carnival themed games, competitions, train rides from Catabella Express, face painting by Dizzy Doodle Face Painting, LLC and live music fromSchool of Rock Coral Springs and School of Rock West Broward. Vendors and food trucks will be on site for your enjoyment. This FREE event is open to all ages and well-behaved pets too (on leash).
Where: Riverwalk – 401 S 2nd Avenue, Fort Lauderdale
When: 12 – 5pm
There will be live entertainment, so feel free to bring along your lawn chairs!
**No outside alcoholic beverages or coolers allowed**
---
Saturday, September 19th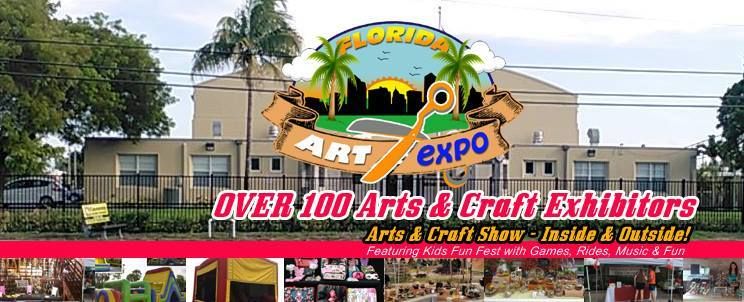 Florida Art Expo
Florida Art Expo features artists, handmade creations, music and live demonstrations from 10 a.m. to 4 p.m. This event offers enjoyment for the whole family all weekend long, and FREE parking! Excitement your weekend deserves! Admission $6 for Ages 12+ Kids under 12 are Free. There will be fun for the whole family. Bounce houses, face painting, local artist, live music and so much more.
Over 65 Independent Artists, Crafters, Designers & Stylists
‣ FREE raffle ticket with entry for hourly handmade giveaways!
‣ Food Trucks on Site all Day!
‣ Gourmet sweets, including vegan and gluten free options!
‣ Perfect place to make friends, mingle, network and promote!!
$6 Entry / FREE Parking Lot!
**FREE GIFT BAGS FULL OF GOODIES FOR THE FIRST 100 GUESTS ON Saturday!**
Where: Fort Lauderdale National Guard Armory – 400 SW 24th Street, Fort Lauderdale
When: 10am – 4pm
---
Saturday September 19th
Kids Can Back Packing!
2,100, 3,200, can we pack 4,000 backpacks? The kids in our community need your help! Come out and join us on Saturday September 19th during Hunger Action Month and help us pack weekend meals for children on free or reduced lunches! Children of all ages are welcome to participate. RSVP NOW!
Where: Feeding South Florida – 2501 SW 32nd Terrace, Pembroke Park
When: 1:30 – 4:30pm
---
Saturday, September 19th

Night Owl Market Street Festival
Fusing Arts, Small Business, Community & Sustainability.
• Independent Artist, Crafter & Designer Marketplace
• Artisan Foods from 'Food In Motion' Vendors
• Local Business & Boutique Pop-Up Shops
• Vintage & Retro Clothing, Accessories & Home Goods
• Gourmet South Florida Food Trucks
• Artisan Treats: Baked Goods, Frozen Yogurt… even treats for your pup!
• Vegan Options: Veggie Dogs, Vegan Cupcakes and More!
• Drive Electric! Learn about electric vehicles for National Drive Electric Week!
• Learn About Flagler Village's Green Initiatives
• Interactive Fun
• Live Music – bands TBA!
• Live Art
• Free Tree Giveaway !
• Picnicking in Peter Feldman Park
• Playground open for kids
FREE BEER ALL NIGHT for 21+!
Free Admission, Free Parking & Free Shuttle Service!
Where: Peter Feldman Park – 310 NE 6th Street, Fort Lauderdale
When: 5pm – 11pm
---
Saturday, September 19th
---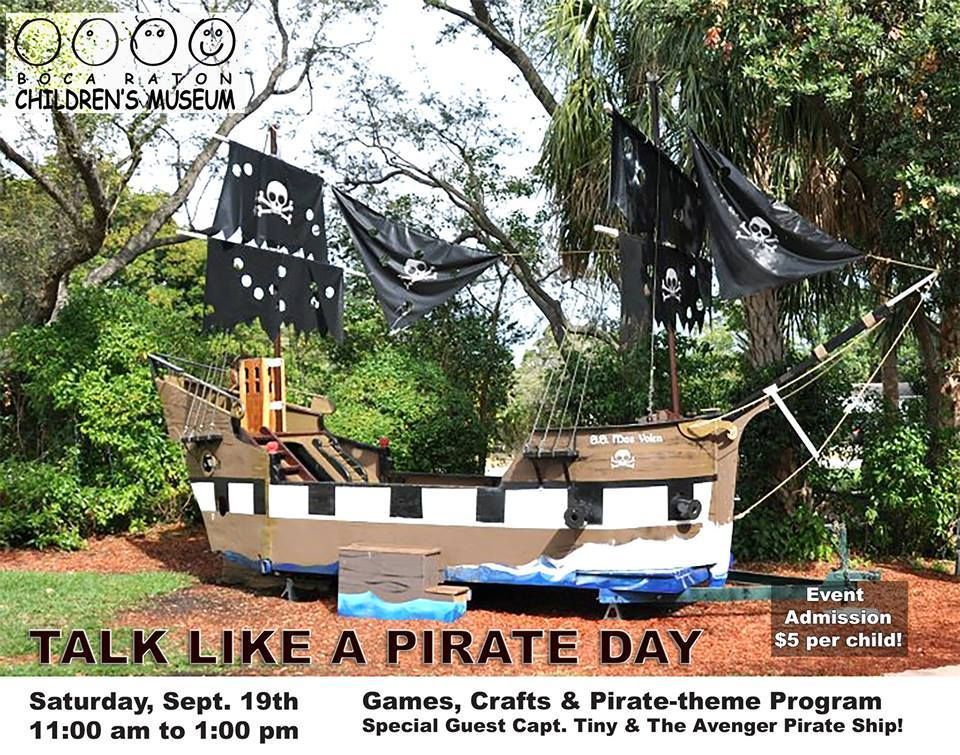 Come join Miss Cheryl for fun pirate stories and crafts this Saturday September 19th from 11-1 at the Boca Raton Children's Museum. ….aaaarrrgh!
---
Monday, September 21st

American Doll Collection Boca Raton Debut!
Meet American Girl dolls Kit, Caroline, Josefina, Rebecca, Kaya and Addy, six among the popular BeForever collection that will be available for checkout to library card holders at two Boca Raton Public Libraries, the Downtown Library at 400 NW 2nd Avenue and the Spanish River Library at 1501 N.W. Spanish River Blvd. starting Monday, September 21.
The Boca Raton Public Library is the only in South Florida offering this program.
Each doll will come with a carrying case, a coordinating book, a complete outfit and a journal for kids to write about their adventures with the American Girl doll.  Each doll can be checked out for one week at a time.
Follow along on all social media platforms:
Like APRIL GOLIGHTLY on Facebook
Follow APRIL GOLIGHTLY on Twitter @April_Golightly
Follow APRIL GOLIGHTLY on Instagram @AprilGolightly
Follow APRIL GOLIGHTLY on Periscope @AprilGolightly
Follow APRIL GOLIGHTLY on Snap Chat @April Golightly
What types of events would you like to see in the future?