AFFILIATE DISCLOSURE: This post contains affiliate links. We earn a small commission from qualifying purchases.
We absolutely love coloring here and have been working on getting used to writing and coloring in the lines with these Christmas Coloring Pages Free Printable.
Did you know that coloring is very therapeutic? It allows your kids to quiet their busy minds by focusing on coloring.
Kids get stressed just like adults and it is nice to enter a meditative state and just color something.
When my daughter started school, she barely could write a sentence without complaining that her hand hurt.
We worked on coloring, drawing, and journaling to build up her hand strength and stop the complaints.
These Christmas Coloring Pages that I made have been a huge help for her hand strength. You can print them for kids and adults/
We spend about 20 minutes per day coloring together as a family. It is sometimes quiet just so that we can focus on our coloring.
Other times we chat about our day. It is a nice family time together where we can just be together without a TV of device on.
The free printable Christmas pages are perfect for the holiday season. You can use them as decoration for Christmas.
Free Christmas Coloring Pages
We are super excited to share 11 pages of Christmas coloring sheets for you to color during the holiday season.
All you have to do is sign up for a our Printable email list to get the printable Christmas coloring pages.
Skip buying a Christmas coloring book this year and print some of our coloring sheets FREE. We also have free sight word printables where the kids color by sight word.
We have a Penguin Sight Word Coloring Sheet and Christmas Tree Sight Word Coloring Sheet for your to print for your kids.
We like to bring them to restaurants for the kids so they have something to keep them busy during the wait for dinner so the adults can have some peace and quiet to talk.
You can also have your kids color them and include them in Christmas cards to wish your friends and family Merry Christmas.
Coloring Pages for Adults
I have included a collage page to be used for adults or older kids that are able to color into smaller lines than younger kids. I have included varying levels of difficulty to cater to different ages of children.
Christmas Ornaments
Candy Canes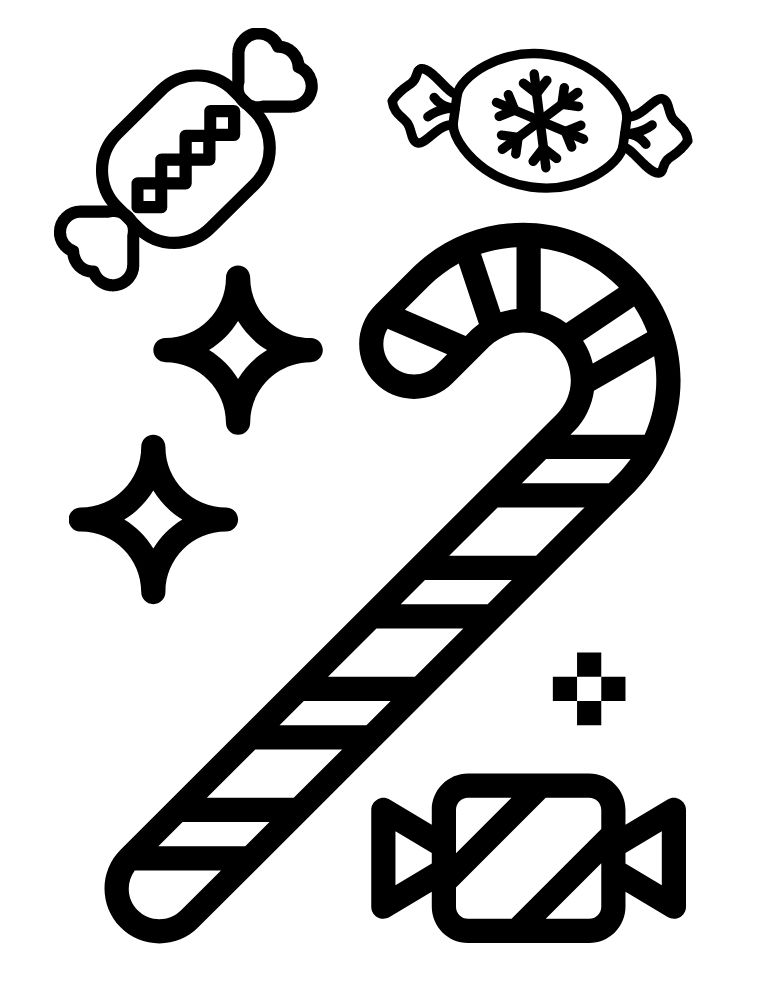 Gingerbread House
Santa Claus
Snowman Coloring Page
Christmas Tree Coloring Page
Printing Coloring Sheets
To use these printables, you will need paper and a printer. Here are my some of my favorite resources for all these sight word worksheets.
Also, you can send them Office Depot to have them printed. I sometimes do that for parties so that I can get them printed on nicer paper.
Crayons or Colored Pencils
We like to use these Twistable Crayons to color these free printables. My daughter and I like to use the twistable crayons because they keep your hands clean. This exclusive drawing set never needs sharpening or peeling.
The Twistable crayons are very durable. A plastic barrel protects the color core. Just twist up to color and down to store away.
They are great for travel and perfect for coloring, drawing, and creating on the go.
If you are looking for a massive color variety, this Crayon tub is perfect! The tub features an Exclusive set of 240 Crayola Crayons in Reusable container.
Crayon sleeves inside the storage tub keep coloring supplies organized, but also double as mini coloring pages with line art printed on the sleeve.
Download Coloring Pages HERE
By downloading this sheet, you are signing up for the printables email list that we send out every week. It's awesome! We are always excited to share the new coloring sheets!