AFFILIATE DISCLOSURE: This post contains affiliate links. We earn a small commission from qualifying purchases.
Disney was kind enough to host me for a Disney Springs shopping adventure last week. Disney Spring has been built out and is now ready for the serious shopper like me. It is a dream come true with all the fun and festivities that you would expect from Disney with retailers that have me jumping for joy and running screaming 'Rella' like my daughter does when she see Cinderella's Castle. When I shop at Disney Springs, I want to run in screaming my faves Melissa, Vera, and Lilly!!! It's the Golightly trifecta!!!
Lilly Pulitzer
We started our shopping journey at Lilly Pulitzer where we Melissa Lingo – the woman that paints all the Lilly Pulitzer stores and dressing rooms. Of course, Lilly had excellent gifts with purchases that work as Lilly fan catnip. If you think Lilly is only for spring, you haven't seen their vests and pants combo. You'll love it as much as I do!!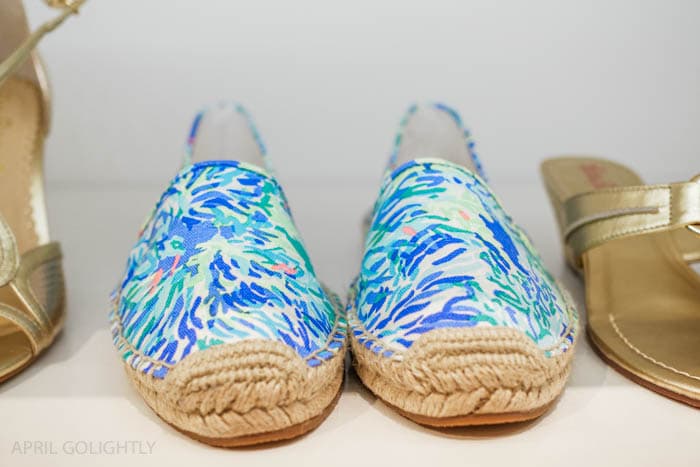 Vera Bradley
The Disney Springs people know their customers! They placed Vera Bradley near Lilly Pulitzer! I adore the prints and have been obsessed since high school when I got the breast cancer print in a computer bag. It was the perfect size, and I wore it to death through high school and college. My mom, sister, and mother in law love Vera too so this was the perfect spot for some holiday shopping. The Disney Springs store also does on-site monogramming and carries all the Disney prints. I bought a cross body wallet for myself that fits my iPhone 7 plus. The Disney print is subtle Mickey, and I love that I can bring it to the parks and carry it around when it don't want to take anything else, but my phone, keys, and wallet. The joy of having a potty trained toddler!!!

Melissa Shoes
I have been obsessed with Mini Melissa shoes since my daughter started wearing shoes. They are just the best shoes for kids. You can wash and clean them so easily right in the sink and get any marks off with a sponge, and if they are on there good, you can get them off with Mr. Clean Magic Eraser. The Melissa store in Disney Spring was the first physical Melissa store that I have been to. They have a very cute setup, and the shoes are fantastic. It is much better seeing them in person because the photos online don't do the women's shoes justice. They have a ton of Disney theme shoes for mom and daughter to match from Alice in Wonderland, Mickey & Minnie, and Cinderella. You will be thoroughly impressed by the quality and comfort.
Basin
Basin is such fun store to go shopping for gifts. Your friends and family all need bath salt, bath bombs and Mickey Soup in their stocking this year. I love that you can touch and smell everything. It is such a fun place to visit, and you won't break the bank with these little gifts.
Uniqlo
Uniqlo is an amazing store where you can get staple pieces for low prices. They are also carrying Disney merch that is extremely stylish and will be perfect gifts for your family.
Kipling
I have been in love with Kipling bags for quite some time. They are durable and last forever! My laptop bag is from Kipling, and it still looks new after several years of use. You can get your items customized on site at the Kipling store. Who doesn't love a good monogram?!
Super Dry
Super Dry is a new discovery on this trip to Disney Springs. This is the perfect place to get jackets and backpacks for the traveler on your Christmas list. It is British label known for its incredible tailoring and high-quality fabrics infused with a unique blend of vintage Americana and Japanese-inspired graphics.
The World of Disney
The World of Disney has everything Disney that you can think of and then 100 times more. If you are looking to deck out your world with Disney stuff, this is the place to shop. You will find a gift for every Disney loving person on your list.
During your shopping at Disney Springs, you may get hungry, I highly recommend D-Luxe Burger and Blaze Pizza. They are quick and easy and won't cut into your shopping time.