AFFILIATE DISCLOSURE: This post contains affiliate links. We earn a small commission from qualifying purchases.
I'm super excited to share this review of Eloquii Unlimited. It is a plus size clothing rental with a 30 day free trial.
I am trying out the clothing rental service. You get your 30 day trial and then you fill up your closet with items that you're interested in.
You can get these items from Eloquii unlimited box or you can get them on the Eloquii website through direct links throughout this post.
Eloquii Unlimited First Month Free
Eloquii has a subscription service with a fee of 79. The flat fee gives you a clothing rental subscription of women sizes 14-28. The monthly fee gets you early access to eloquii styles plus size fashion.
If you are losing weightm, like I am, the monthly box from Eloquii is a great choice to rent clothes as you lose weight. I prefer this service to buying clothes in my size as I lose weight. It is awesome way not to spend a ton of money every month especially when you're losing weight every month.
I am a size 14 right now and I really wanted to try this out because I am I've been losing weight. In fact, I wanted to try it out before I lost too much weight and I couldn't fit into the sizing.
I'm excited, but I'm also kind of sad that I'm not going to be able to fit into the Eloquii clothes anymore. They have awesome clothes!
I filled up my wardrobe with a ton of different items and then I prioritize my favorites.
Once you have to filled your wardrobe up with at least 10 items, your box automatically ships. In the box, there is a pre paid bag to ship the items back. Also, you can schedule a pick up with USPS to have them pick up your bag from your front door or mail box.
It was kinda odd, I thought there would be like a button where I pressed and said OK send me the box. But, once you fill your wardrobe with at least 10 items the box automatically ships out. You get four items at a time.
Plus Size Rental Dresses
This first dress that came in the subscription box is this is crinkly white dress. It has like button downs and it's perfect for a curvy petite woman.
It has a collar and it has these buttons all the way down with slit at the bottom. All the buttons are real and so if you wanted to make it to split a little bit longer, you can open them or wear the dress as a duster over a top.
The next dress is super cute! I love the way the stripes go into the bust area. The stretch in the back is the best for curvy women. They are really are aware of what a curvy woman needs.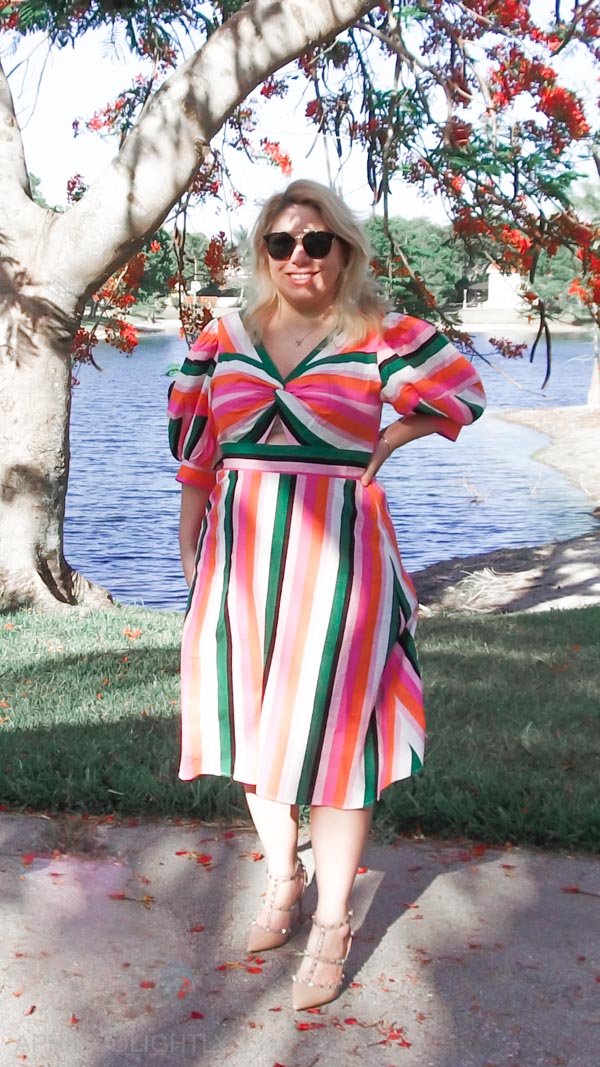 I am in love with this white off the shoulder dress. The off the shoulder dress makes your look taller because the longer your neck looks, the taller you look.
Eloquii Shorts
One of my favorite items that I got in the Eloquii Unlimited Subscription Box, were these really cute blue shorts with pockets. They also have a matching top that goes with these Eloquii Shorts. Eloquii really know is how to fit a curvy woman.
These super cute shorts are really a skort with a front flap that covers the front of the shorts. This minimizes and hides the belly. Also, the stretch back makes it easy to wear.
Eloquii Top
This red top is perfect for the summertime especially the patriotic holiday. I really hammed it up in my memorial day outfit with these jean shorts.
Eloquii Maxi Skirt
I got this Eloquii maxi skirt in my second box. It is an amazing print that looks great with a ton of colors. They look great with these tanks that I found on Target.
Eloquii Romper
This romper is extremely flattering and I love this color, but I found it hard to keep unwrinkled so I am definitely not keeping it. I do like the shape of it though and will be looking into Eloquii rompers made out of different material.
Eloquii Unlimited Cost
Before my free membership was over, I emailed the company to cancel it. They offered me a reduced fee with a monthly credit of $30.00 for the next 3 months making the monthly subscription fee – $49.00+taxes instead of $79.00+taxes. A total discount of $90.00!
Alternatively, they offered to temporarily pause my membership, without canceling, for only $5 per month plus tax. During this time, I get to continue wearing and enjoying the garments you already have at-home and I can even purchase your At Home items at the member pricing.