AFFILIATE DISCLOSURE: This post contains affiliate links. We earn a small commission from qualifying purchases.
Have you seen this gray hair trend that seems to be sweeping the fashionista and beauty-istas all over the internet? I have only seen one person in real life with dyed gray hair, and she's a fashion blogger! I think it is a beautiful fresh look that is definitely up my alley….I think of it as pushing my blonde to my limits. I'm always trying to get rid of the yellow and the oranges that are naturally occurring in my hair. I've been challenged to take the challenge to ditch the drugstore dye and get my best color ever and I jumped at the chance to try out the new Ion Hair Color line.
My hair is naturally very dark, so I started by dyeing my blonde hair at a level 9 at the ends and level 7 at my roots. I decided to try the Ion® Color Brilliance® Master Colorist Hair Color in a Demi-Permanent Chrome before committing to a long-lasting ion chrome hair color look. Demi is considered a gloss if used for about 10 minutes. I put the ion chrome hair color on and took it off very quickly. I know that my ends will grab any color in seconds! I did a few test stands and found that the color grabbed in about 5 minutes on my ends.
Mixing Silver Hair Dye Sally's
I mixed the ion hair color using a 1:2 ratio for the color to Ion Sensitive Scalp 10 Volume Developer. I followed the directions on the Ion Color Brilliance Absolute Perfection Booster Step 1 and added that into the color bowl. Ion® Color Brilliance® Absolute Perfection Booster and Color Sealer reduces breakage when used with lighteners and hair color while the Absolute Perfection Color Sealer helps to ensure long-lasting color. Get the color booster here.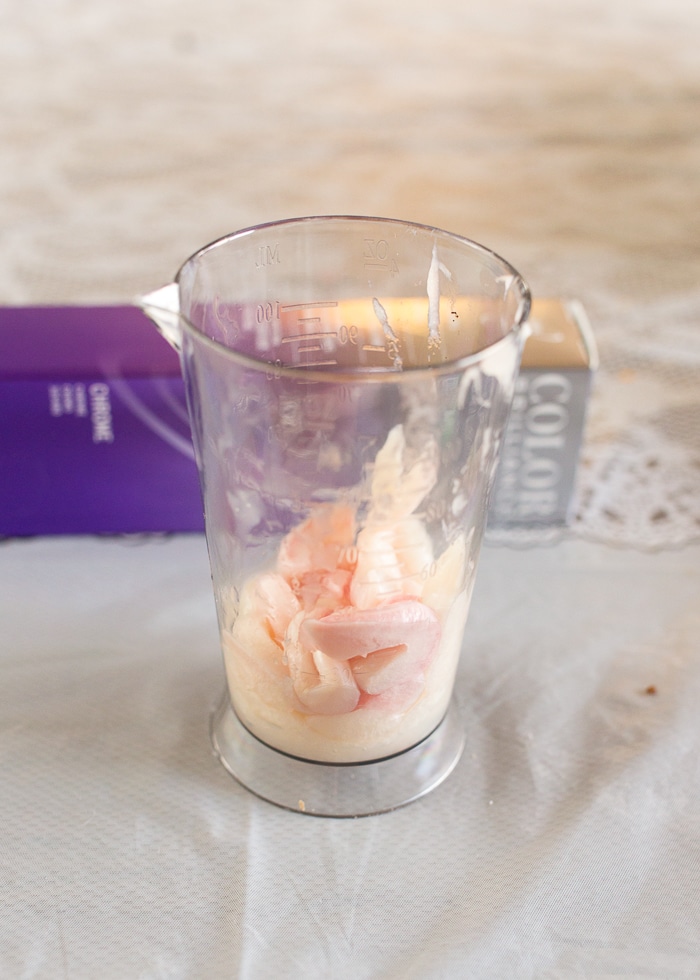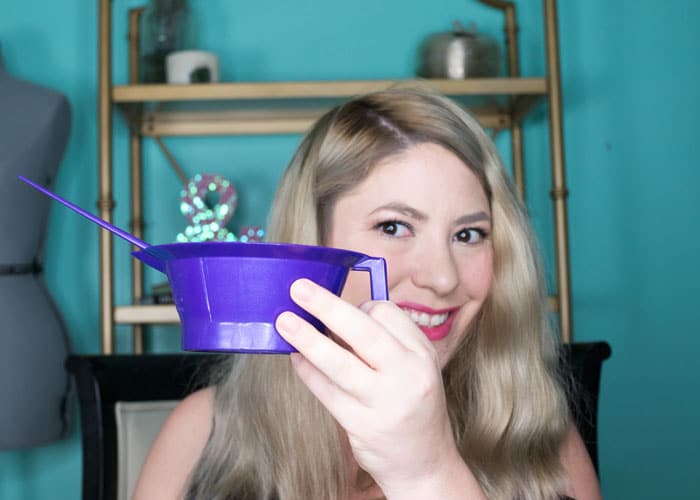 Can I Use 20 Volume Developer with Demi Permanent Color?
Yes, you can use 20 volume developer with Demi Permanent Color. The 10 Volume was recommended to me by the Ion Expert Colorist. According to the information online and in the box, you can use Ion Color Brilliance Master Colorist Color with 10, 20, 30 or 40 volume delveloper. 10 volume developer opens the cuticle without lifting a color level. 20 volume will lift one color level, 30 volume will lift 2 to 3 color levels. From my understanding, you should not use 40 volume on your own unless you are a licensed hair stylist.
I started by getting all the knots out of my hair by brushing out my hair. Tangles can cause problems with the color.
Then I applied to the root first and then pulled the color down through my ends. Since it works so quickly, I moved fast.
I rinsed out the color in the shower until the water ran clean. Then, I used Ion Color Brilliance Absolute Perfection Color Sealer Step 2 for 10 minutes. This seals the color into my hair! I washed out the sealer and shampooed with Ion Color Defense Sulfate-Free Shampoo. Washed that out and Ion Color Defense After-Color Sealer. This closes the cuticle and stops the color from processing and damaging your hair. Wash this out and you are ready to style as usual!
I picked up all these hair goodies and the tools that I need to successfully complete this hair transformation from Sally Beauty. They have an enormous selection of salon-inspired brands and products to handle every hair, nail, skin, and color need. I feel like a kid in beauty candy store when I go there. Anything is possible with a quick trip to Sally Beauty! They have a Love It or Return It money-back guarantee, which makes trying out new products risk-free.
Do you love Pinterest as much as I do? I have been gathering awesome hair tutorials for quite some time, follow along so you won't miss out on them! Check out the #SallyHairDare hashtag on social sites for more ideas!