AFFILIATE DISCLOSURE: This post contains affiliate links. We earn a small commission from qualifying purchases.
We had an amazing time at Disney's Animal Kingdom. I had been to animal Kingdom before and had a gotten to do as much as I did in this one day so I would like to share with you Animal Kingdom Best Rides to do in one day!
The best part of Disney's Animal Kingdom is their focus on conservation. All the guides and hosts were constantly talking about how the animals you are seeing don't make good pets. Also, I found out that all purchases made at Disney's Animal Kingdom go toward the Disney Conservation Fund.
The Disney Conservation Fund was inspired by Walt Disney's conservation legacy. It was established on Earth Day 1995 to help protect wildlife and wild places around the world. It has supported projects spanning across 6 continents, all 5 oceans and more than half the countries (115) in the world.
Also, as of 2017, The Disney Conservation Fund has awarded more than $70 million in grants. They have helped protect more than 400 species around the world, including elephants, cranes, butterflies and coral reefs.
Animal Kingdom Best Rides in 1 Day
You can go on the Disney's Animal Kingdom Best Rides in one day without missing any awesomeness! I know that when you visit Disney World, most of the time, you can only see each park for one day.
Animal Kingdom Fast Passes
The most important thing to do when planning your Disney trip is to schedule a fast passes as far in advance as possible. You can schedule 3 fast passes per day for each person. The more advanced planning you have (60 days at the earliest) the more likely you will be able to get fast passes for the popular rides.
You may begin making your FastPass+ selections at 7:00am EST 60 days prior to your arrival date if you are staying at a Walt Disney World Resort hotel. If you are staying off property, you can schedule your fast passes 7:00am EST 30 days prior to your desired date. Learn more and schedule your Fast Passes here.
I recently had a conversation with my neighbor about Fast Passes. They thought that you had to pay extra to get Fast Passes and argued with such passion that I started to question what I know to be true. I looked into it and you don't pay extra for Fast Passes, but planning your trip 60 days in advance is required to take full advantage of the Fast Passes.
When I am scheduling a trip, I also set a reminder 60 days in advance to make sure that I don't miss my chance to schedule the Fast Passes.
SUPER TIP – Once you scan your band on your first fast pass, you can now schedule another Fast Pass for your party on the World Disney Experience App. Don't miss your chance to schedule a new Fast Pass as this will help you see as much as possible in one day!
Which Fast Passes to Schedule?
Avatar Flight of Passage
Expedition Everest
Kilimanjaro Safari
Avatar flight of passage in Pandora the World of Avatar is a very popular ride at Disney's Animal Kingdom. Also, Kilimanjaro Safari is also extremely popular. These are the types of rides that you want to get fast passes for on your trip to Animal Kingdom. This is also a second ride at Pandora that you would like to get a fast pass for.
If your children like roller coasters you might consider doing a fast pass for Expedition Everest. It is one of the most adventurous roller coasters at the Disney Parks.
Kilimanjaro Safari – Fast Pass
If you schedule 60 days in advance, you will have your choice of times with the fast passes. I would start my day at the Kilimanjaro Safari because the animals in the morning are more likely to be awake and alert during your safari track.
We did the Kilimanjaro Safari first and were able to see the Lions awake. I have done Kilimanjaro Safari several times and have never seen the lions awake. They mostly sleep during the day.
The animals get hot and hide when it's really hot in the middle of the day. They smell worse when it is hotter and later in the day. It is a little less fun on the safari in the middle of a hot day, in my opinion.
The ride has a picture list where you can identify each animal on the safari. Learn more about the Land of Africa and the Kilimanjaro ride here.
Book Your Next Fast Pass as Soon as You Swipe the First ONE
With fast passes, as soon as you swipe your fast passes, you can immediately book another fast pass. This helps you get on rides a little quicker sometimes a lot quicker. I would recommend swiping the fast pass and as you're walking up to get on the next ride booking the next right right away.
Festival of the Lion King
The Festival of the Lion King is a show, not a ride located in Africa that you don't want to miss. It is so much fun with amazing dancers and actors with giant floats with animals and Lion King Characters. It reminds me of Cirque du soleil.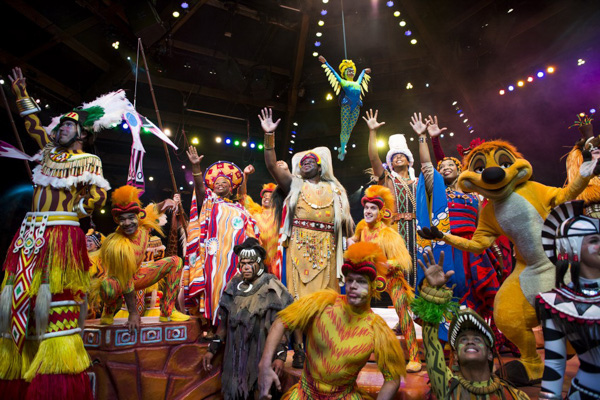 Check the times on the Disney World App or on a times sheet when you first come into the park.
UP! A Great Bird Adventure
The other show that I would recommend is UP! A Great Bird Adventure. It is fun interactive show where you get to see your favorite character from the movie Up and awesome birds from around the world.
The show is interactive and super fun for kids and adults. If you are on the lower level on the ends of the bleacher seats, the birds will fly through your arms. Also, stay after to see some bird, like the Bald Eagle up close.
Kali River Rapids
We skipped the Kali River Rapids this time because you get extremely wet on this ride. It is a super fun ride and one of the best ones at Animal Kingdom. If you want to go on it, be prepared with towel and/or a change of clothes.
Expedition Everest
The Expedition Everest is a super fun and really steep roll coaster in the Land of Asia. It is one the best ones in Disney World in my opinion.
Check out these Born in China activity sheets to help your kids learn more about the animals in China.
Avatar's Flight of Passage – Fast Pass
After the Kilimanjaro trek, you should sign up for the fast pass for flight a passage after lunch so that you can explore Africa and Asia before you make your way down to the Land of Pandora.
Avatar Flight of Passage ride is amazing because it actually has a screen and it feels like you're really flying in it. You set up with your avatar so that you are in the land of Pandora flying on a Banshee.
Flight of Passage reminds me of the Soarin' Ride at Epcot because of the screen. The newest technology is incorporated with the Soren technology in that you are sitting on like a like like seat where are you are you hang onto handlebars and there's actually a back rest that pulls you in.
It's simulates that you're flying on top of an animal so that you can actually feel the banshee breathe in and out as you fly on top of it. The banshees flies through the air and your water and splashes on you in a missed so that he feels like you're really there.
The restaurants in Pandora really good as well. I would recommend trying the bubble slushy from Pandora it's really tasty.
DinoLand USA
Animal Kingdom Dinosaur Ride
Once you go to both flight of passage of the other Pandora ride, I would recommend heading over to DinoLand USA and going on Animal Kingdom's Dinosaur Ride. It is called Dinosaur and the Primeval Whirl.
Dinosaur is a really fun and a little scary. It reminds me a little bit of Space Mountain at Magic Kingdom because of the darkness in some of the parts of the ride.
Once you are done with the dinosaur ride, there are also a ton character to see in DinoLand USA. If you like ducktails, they have Scrooge McDuck and Launch Pad as well as Donald Duck.
Also, if you have time, check out the Primeval Whirl in DinoLand USA.
There is also an area where the kids can fly and playing in a Dinosaur Adventure area. My daughter wanted to stay longer there and I would give your little kids about an hour to run around and play.
Rivers of Light
In the evening, check out the new nighttime show, Rivers of Light. The new show celebrates the majesty of nature and the connection between animals and humans in the world.
The performance combines live performers, beautiful floating lanterns, glistening fountains, special effects and authentic animal imagery projected on giant water screens. It is so cool!
What to Wear to Animal Kingdom
COMING SOON
Check out Disney Nail Art ideas here.
What is your favorite ride at Disney's Animal Kingdom?