AFFILIATE DISCLOSURE: This post contains affiliate links. We earn a small commission from qualifying purchases.
Black bottom cupcakes are a great mix of chocolate and cheese cake. I am huge fan of cheese cake so this is up there with the top 5 favorite cupcakes ever. Instead of putting cream cheese inside the cupcake, I made a chocolate ganache and put the cheese cake flavor on top.
Black Bottom Cupcake Recipe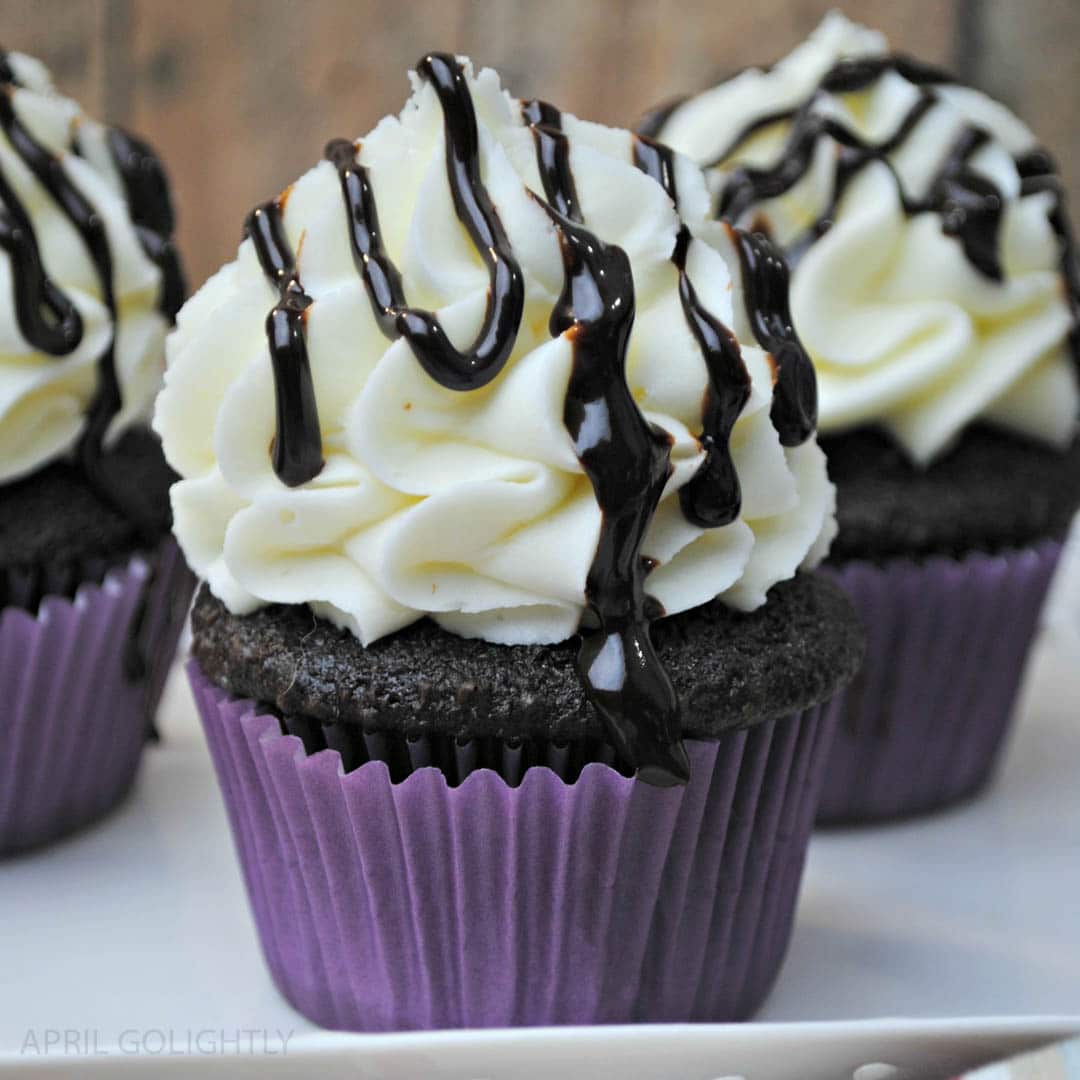 Ingredients
1 3/4 cup Flour
2 cup Sugar
1 cup Cocoa
1 1/2 tsp Baking Soda
1 1/2 tsp Baking Powder
1 tsp Salt
2 Eggs
1 cup Whole Milk
1/2 cup Oil
1 cup Boiling Water
1 bottle of chocolate fudge
Chocolate Ganache filling ingredients 
1 cup heavy whipping cream
9 oz semi sweet chocolate chips
Cream Cheese Frosting Ingredients
1 cup unsalted sweet cream butter
1 cup softened cream cheese butter
3 cup powder sugar
4 tbsp heavy whipping cream
Black Bottom Cupcake Directions
Line the cupcake tins with paper liners. Preheat oven to 350 degrees.
Mix the flour, sugar, cocoa, baking soda, baking powder, and salt in a bowl.
In a separate bowl add the eggs, whole milk, and oil.
Add the bowl containing the eggs, whole milk, oil, and vanilla to the bowl holding the dry ingredients.
Mix all together until fully incorporated.
Beat for 3 minutes on medium.
Slowly add the boiling water starting with a small amount then pour in the remaining boiling water.
The batter may be a little runny.
Scoop batter into cupcake lined cups until 3/4s filled.
Bake at 350 degrees for 20-25 minutes.
Remove from oven and allow to cool completely.
Cream Cheese Frosting Directions
Add in all ingredients into a standing mixer and mix until combined and stiff peaks form.
If powder sugar pebbles form, add 1-2 TBSP more of heavy cream
If the frosting is too thin add 1/2 C more of powder sugar
Mix until the the frosting becomes stiff and doesn't fall off a spoon.
Directions
Bring heavy whipping cream to a boil and pour over the chocolate chips.
Stir until combined and the bowl starts to look like chocolate sauce.
Let sit until cooled.
Core out the center of the cupcake and scoop some ganache into the cupcake.
Directions to prep cupcakes
Spoon the frosting into a piping bag with a star tip and frost the cupcakes starting at the base in a circular motion.
Drizzle the chocolate fudge on top of the frosting
Don't ever miss a recipe from Golightly Food, get amazing new recipes to your inbox by signing up for the Golightly Food newsletter.