AFFILIATE DISCLOSURE: This post contains affiliate links. We earn a small commission from qualifying purchases.
I have been on the hunt for foods that will allow me to sneak fiber into my husband's diet. He was recently diagnosed with slightly high cholesterol and fiber is supposed to help fix that. In my hunt, I found the Great Grains Blueberry Morning cereal. This Blueberry Morning Poke Cake is a way to give my husband a treat and slide some fiber into his diet. It came out great and I made a very happy husband this weekend with this cake.
We found the Great Grains Blueberry Morning and all the ingredient on our shopping trip to Walmart. As you can see, we had fun!  Great Grains Blueberry Morning has the perfect amount of natural sweetness  with whole-grain clusters, real fruit and nuts. Great Grains comes in Five flavorful varieties: Raisins, Dates & Pecans, Cranberry Almond Crunch, Crunchy Pecans, Banana Nut Crunch and Blueberry Morning.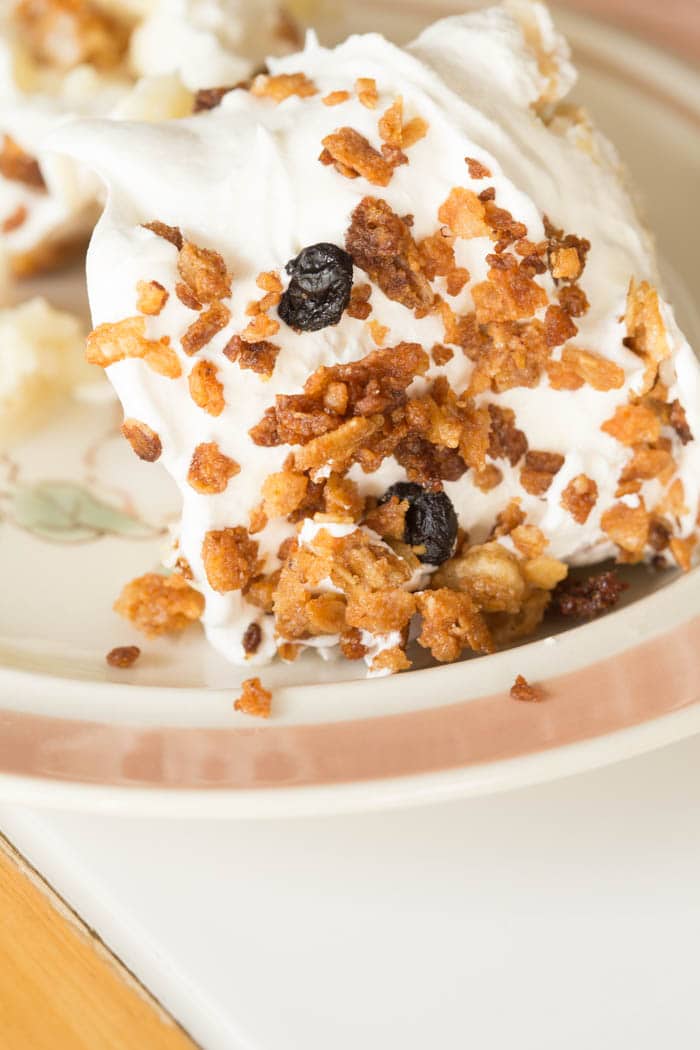 Here are the yummy ingredients to make the Blueberry Morning Poke Cake:
Ingredients
Cake
1 Cake Mix & Required Ingredients from the back of the box
1 teaspoon blueberry extract
Cereal Crumble
2 cups crushed Great Grains Blueberry Morning
2 tablespoons sugar
4 tablespoons butter, melted
Filling
1 box instant pudding and milk as stated on the back of the box
Topping
1 container frozen whipped topping, thawed
Instructions
First, I bought a box of Betty Crocker's SuperMoist cake mix. I decided to use the white cake variety for a cool contrast of color with the Great Grains Blueberry Morning  cereal. I added a little blueberry extract to the mix and only used egg whites to keep the color as white as possible. The yellow from the eggs gives the cake a yellow tint.
I baked the cake using the instructions on the back in long shallow pan. Then, I allowed the cake to cool. Poke cakes work best if everything is cooled down. After the cake cooled, it was time to poke holes in the cake. Using a wooden spoon, I poked holes in a uniform way. 
I used a box of instant white chocolate pudding to make the filling for the cake. It is extremely simple, just mix with milk and pour over the top of the poke cake. I had to shake the cake a little so that the pudding would fall into the holes.
Save
Save