AFFILIATE DISCLOSURE: This post contains affiliate links. We earn a small commission from qualifying purchases.
If you love Lilly Pulitzer and are expecting soon, you need to check out the Lilly Pulitzer Birthing Suites at Good Samaritan Medical Center! YES! Lilly Lovers can give birth in the "birth place" of the Lilly Pulitzer brand in Palm Beach County.
This blog post is sponsored by Good Samaritan Medical Center. All opinions are my own.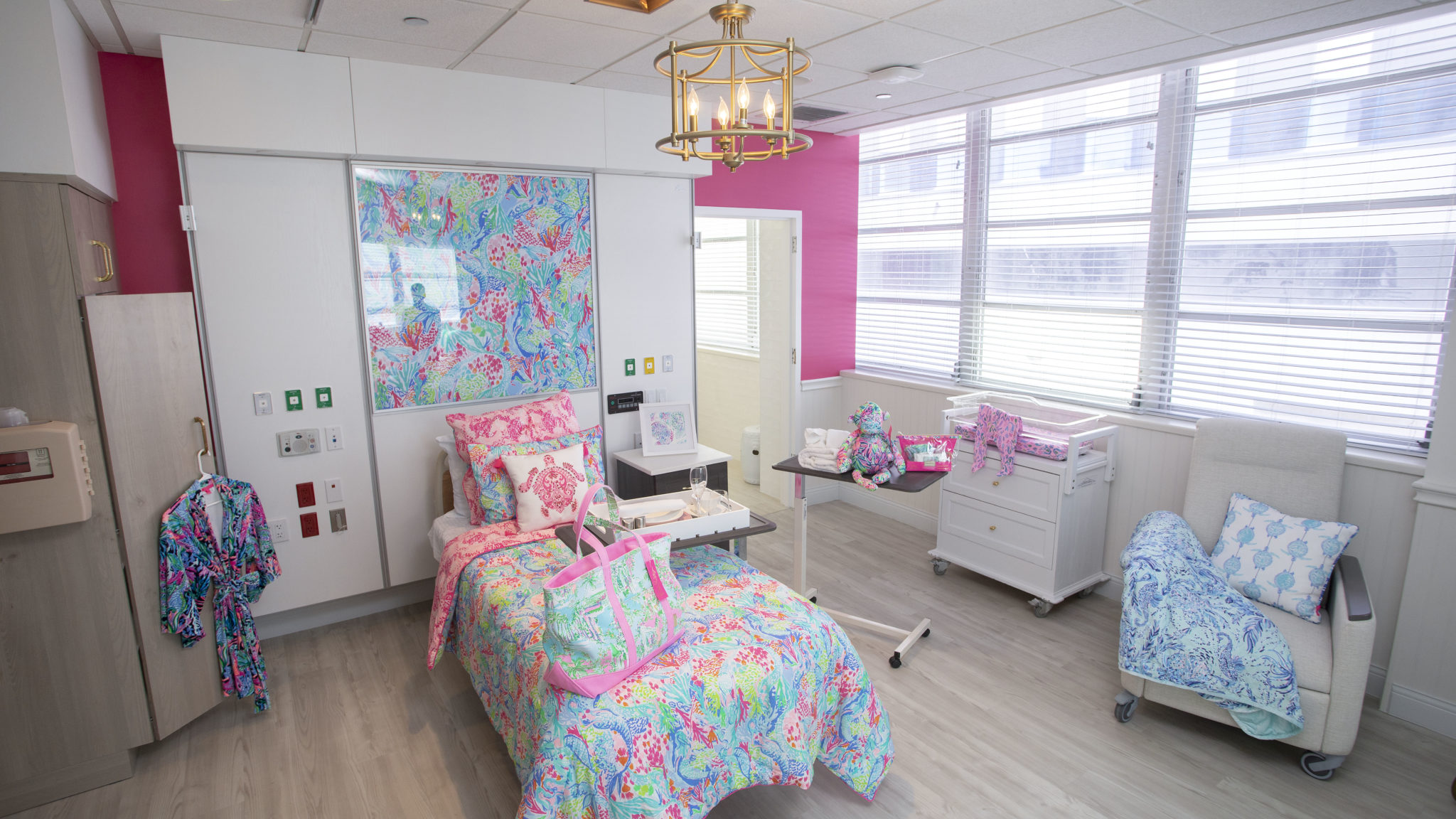 Lilly Pulitzer came up with the idea of her prints in Palm Beach to hide the lemon stain from her lemonade stand.
The Lilly Pulitzer VIP Suites are the dream of Lilly luxury in a birthing suite. There are hand-painted floral, ocean and jungle themed murals that are done by Lilly Pulitzer artists.
The bedding and window coverings are dressed in Lilly Pulitzer fabrics with coordinating décor. I am obsessed with the Mermaid Cove Lilly Pulitzer bedding! It is such a classic! My daughter has a Lilly Pulitzer chair in this print. (see it here).
All the Lilly Birthing Center rooms have fully renovated rooms. Some of the rooms have waterfront views!
Lilly Pulitzer Waiting Room
Your family can wait in Lilly luxury since the waiting room and corridors are furnished with Lilly Pulitzer furnishings, décor and artwork.
Concierge Service
As part of the Lilly birthing suite, you get access to a VIP food and beverage menu!
Lilly Pulitzer Baby and Mommy Accessories
For Mother and baby, you get to wear a Lilly Pulitzer printed robe, swaddle set for the new baby, and Lilly Pulitzer Tote Bag. Best Care Mommy and Baby!
Top Notch Medical Care
With all the AMAZING aesthetics, you cannot forget that it has been paired with stellar care at Good Samaritan Medical Center.
At Good Samaritan Medical Center, they take a "family first" approach to caring for mommy and baby! They work with your obstetrician or midwife approved birth plans to get you the birthing experience that is tailored to your needs. Mommy and baby's needs are always top priority.
Level II Neonatal Intensive Care Unit
Good Samaritan Medical Center has a Level II Neonatal Intensive Care Unit! It is staffed with the specialists your baby may need if intensive care is required.
The entire NICU health care team works to provide some of the best care for sick or at-risk newborns, while they foster bonding with your baby. If your newborn needs special care, the Good Samaritan Medical Center NICU is located within the Birthing Center so that you're never far away.
While in the NICU, your baby will receive care tailored to their condition, including special feeding schedules, medications and tests.
Lactation Support
Breastfeeding is extremely important to new moms. I know that it was extremely important to me. Breastfeeding encourages close contact between mother and baby.
Good Sam has board-certified lactation consultants available in house who provide guidance and support so you will be successful with breastfeeding your child. These experts have helped many other women successfully nurse their babies—and now they're here at our hospital ready by your side whenever you need them most!
The on-site Internationally Board Certified Lactation Consultants can help new moms with low milk supply, teaching the baby to latch, engorgement, breastfeeding multiples (like twins), and how to use a breast pump.
Good Sam's Labor & Delivery Awards
Good Samaritan Medical Center is proud to be the recipient of the following Healthgrades awards: Labor and Delivery Excellence Award, Superior Performance in Labor and Delivery, and rated among the Top 10% of Hospitals Evaluated for Labor and Delivery. The Birthing Suites is also Five-Star Recipient for Vaginal Delivery for seven years in a row.
They also have a stellar Infant Security System and expanded visiting hours along with Board Certified Anesthesiologists and Neonatologists available 24 hours a day.
What is your favorite part of Lilly Pulitzer Birthing Suites at Good Samaritan Medical Center?