AFFILIATE DISCLOSURE: This post contains affiliate links. We earn a small commission from qualifying purchases.
Disney invited me to an all expense paid trip to Los Angeles in exchange for sharing it with you. As always, all opinions 100% my own. Teen Beach 2 Review 
This summer my head will be filled with song from Teen Beach 2. The one that is holding on the most is 'Best Summer Ever.' The movie is filled with tons of amazing original songs and dance numbers. You need some space in your living room to watch this movie. If you are anything like me, you will not be able just to sit and watch it.
The movie starts where Teen Beach left off with Brady and Mack together, but the summer is ending, and now they have to go back to real life. Summer love seems always to have an end point. The movie starts out going on this very predictable line of thinking. For a moment, I was concerned that the characters from the movie "Wet Side Story" within the movie were not going to show up. This is where the supernatural comes in, Leila from "West Side Story" starts realizing her world is not the same since Mack and Brady visited the movie world.
Leila and Tanner end up coming to the real world where they find Brady & Mack's relationship in shambles. This is when you realize that the movie is more about friendship than a typical summer relationship. Leila and Tanner change from their 1950s selves and become more modernized. From their new perspective and their friendship, they help bring Mack and Brady back together. Mack and Brady turn right around and help Leila and Tanner save the movie from disappearing.
Just as Leila is about to go back to the movie, Mack tells her that she can change the movie. Leila changes the movie from "Wet Side Story" to "Leila Queen of the Beach" making it a flick about girl power that is ahead of its time. This is a nice message for teen girls showing them that competing and conflict is not the answer. Friendship and supporting each other is much better.
The ending was a complete surprise! It erases the entire first movie and has Mack and Brady meeting in totally different way. I love that it was a surprise and came with an awesome original song and dance number!
Watch this awesome trailer – it's hilarious!
Of course, I am obsessed with the fashion! Here are a few Teen Beach 2 inspired outfits.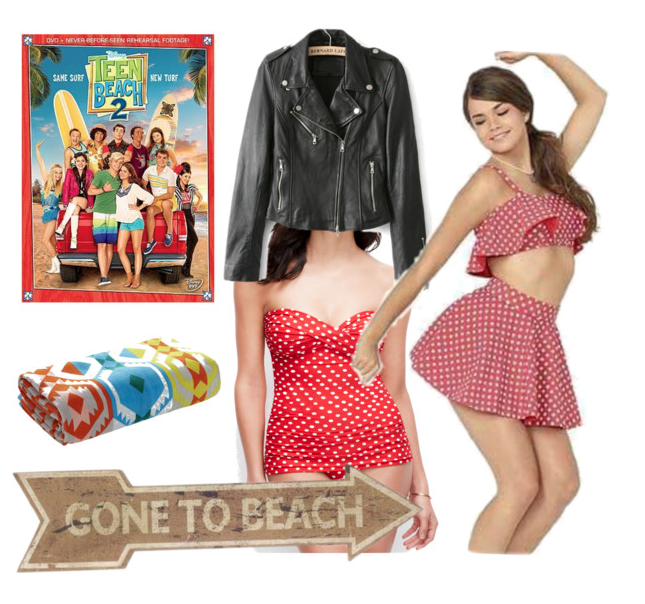 Jacket // Bathing Suit // Teen Bathing Suit // DVD // similar Towel  // #beach towel
Romper // Boots // Flower // Belt // DVD
Shoes // Top // Shorts // DVD // similar Towel  // #beach towel
Follow along with the hashtags: #TeenBeach2Event #TeenBeach2
Follow the fun on your favorite social media outlets:
Like Disney Channel on Facebook
Follow Disney Channel on Twitter
Follow Teen Beach Movie on Twitter (#TeenBeach2)
Check out the Disney Channel page for Teen Beach 2 for more details
TEEN BEACH 2 is In Stores NOW with EXCLUSIVE BONUS FEATURES! 
Exclusive Bonus Features: Cast Dance Rehearsals  – Exciting new contemporary and retro music with dance numbers choreographed by Christopher Scott. Join Ross Lynch, Maia Mitchell and the rest of cast as they learn some of the crazy steps for the movie.  See how they put the moves into the songs Best Summer Ever, Gotta Be Me, Falling For Ya, and That's How We Do.
You may also like: