Create some absolutely beautiful and delicate vanilla macarons. Not only do they show off nicely, but they taste like Heaven.
How to Make Vanilla Macarons
You know what I love most about macarons? How beautiful they are. They really show off so well. You can change up the colors and photograph macarons in every shade of the rainbow.
They are delicate and oh-so-amazing. The first bite is a light and flaky cookie. As you continue to eat them, you discover the sugary filling which is basically sugar, egg whites, and vanilla.
The substance of the macarons is in what you don't experience: heavy flour or a filling that is overly rich.
These are pure perfection. I love making them for my family and seeing them disappear. It just means I have to make more.
Vanilla Macarons Shopping List
You might think that there are a ton of ingredients, but there aren't. Surprisingly, there are only 7 ingredients:
Powdered Sugar
Almond Flour or Almond Meal
Sea Salt
Egg Whites
Cream of Tarter
Granulated Sugar
Vanilla Extract
What's the Difference Between Macarons and Macaroons?
Don't confuse macarons with macaroons. It's easy to mistype them, but they are very different to make and eat.
A macaron has an egg-shell like crust and is filled with a meringue or buttercream.
A macaroon is chewier, with lots of sugar and normally features coconut.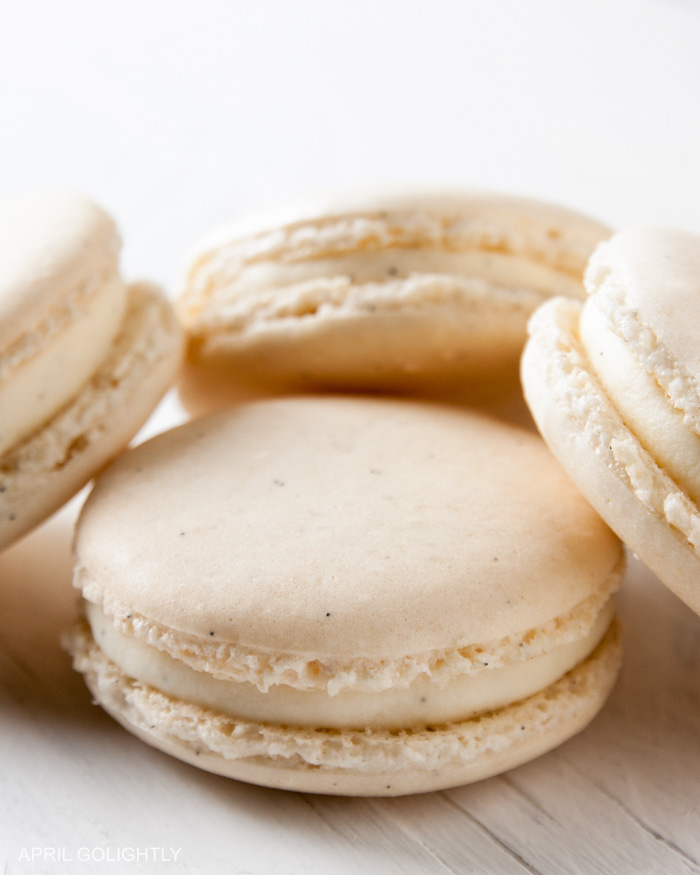 Equipment You Will Need
To make these macarons, I recommend getting a pastry bag fitted with a 1/2-inch tip. If you don't have one, you can either spoon round dollops of batter onto the baking sheet or make a pastry bag by snipping off one corner of a large resealable plastic freezer bag.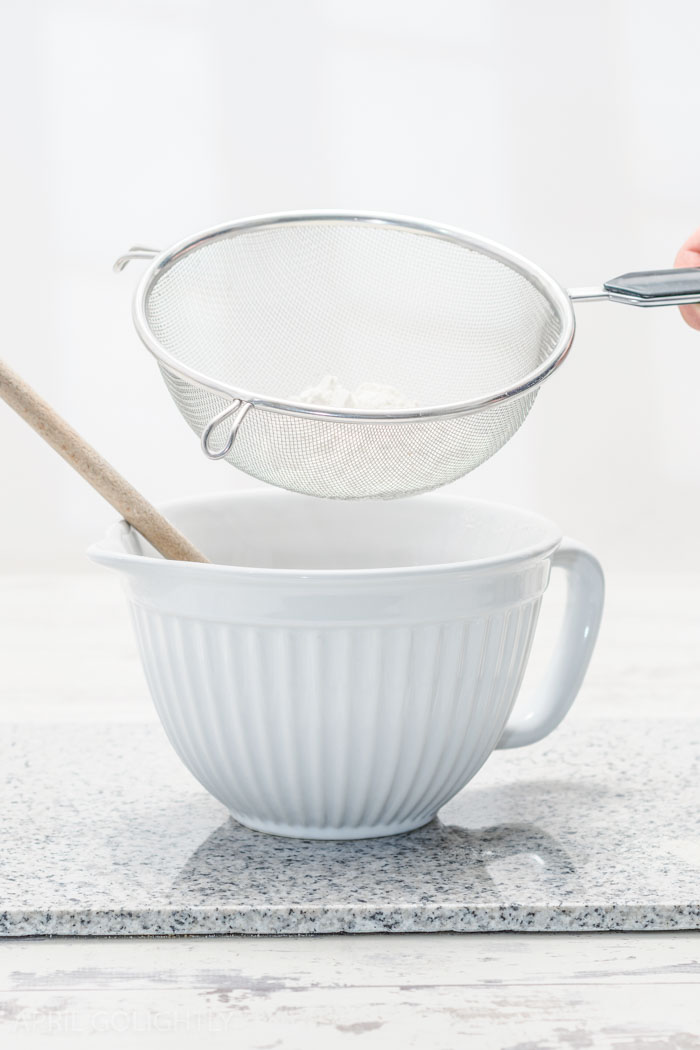 Vanilla Macarons Recipe
Are you ready for my recipe? Here's a printable recipe card. Don't forget to pin this post so you can find it again. After making these once you'll want to make them for lots of other events.
Vanilla Macarons Recipe
Super easy French Vanilla Macarons that will impress your family and friends.
Print
Pin
Rate
Instructions
Preheat oven to 350°F.

Line 2 large baking sheets with parchment paper.

Put powdered sugar, almond flour, and salt in a food processor pulsing several times. Continue for about 30 seconds or pulse until the ingredients are fine and well combined.

Using a flour sifter, sift the above ingredients into a large bowl. Set aside.

Place the 3 egg whites in the clean bowl of a stand mixer fitted with a whisk attachment. Beat on medium speed until opaque and foamy, about 30 seconds. Now add a pinch of cream of tartar, increase the speed to medium-high, continue to beat until the egg whites are white in color and hold the line of the whisk, about 1 minute.

Continue to beat, slowly adding the granulated sugar, and vanilla extract...until the sugar is combined, the peaks are stiff, and the whites are shiny, about 1 minute more. Do not over whip. Transfer the meringue to a large bowl.

Now you will need to spoon half of the batter into pastry bag fitted with 1/2-inch plain round tip. Pipe batter onto each prepared sheet in 12 walnut-size mounds, spacing mounds apart because cookies will spread slightly.-

Take a rubber spatula, and now gently fold the dry mixture with the egg whites in four different scoops until the dry ingredients are just combined.

Now you will need to spoon half of the batter into pastry bag fitted with 1/2-inch plain round tip. Pipe batter onto each prepared sheet in 12 walnut-size mounds, spacing mounds apart because cookies will spread slightly.

Bake cookies, 1 sheet at a time, until firm to touch in the center and dry and cracked on top, about 7 minutes ..... pull the pan out and then rotate and bake for another 7 minutes.
Nutrition
Calories:
1766
kcal
|
Carbohydrates:
300
g
|
Protein:
33
g
|
Fat:
55
g
|
Saturated Fat:
3
g
|
Cholesterol:
0
mg
|
Sodium:
736
mg
|
Potassium:
270
mg
|
Fiber:
11
g
|
Sugar:
275
g
|
Calcium:
23.5
%
|
Iron:
23.5
%
More Dessert Recipes
Want more baking inspiration? Here are some of my favorite recipes.