AFFILIATE DISCLOSURE: This post contains affiliate links. We earn a small commission from qualifying purchases.
I received product and payment via The Blueprint Social for this post, however, opinions are 100% my own.
I have been addicted the Hunger Games for a few years now. I was first drawn to Effie Trinket's capital look 2 years ago and she helped me win best costume that year. You can see my costume here and the awesome makeup here. This year, I decided to put together an Easy Katniss Makeup Tutorial that does not require free hand drawing flames. I discovered Tulip Body Art and stick on stencils makes it easy to pull off the Katniss – girl on fire look.
Start with a fresh face of foundation and red long wear lipstick. I am wearing foundation and Stila true red long wear lipstick.
Start with putting red all over the lids from the Tulip Body Art Body Paint Kits using the brushes included with the kit. Whether you're going for cute or creepy, complete your Halloween look with Tulip® Body Art®!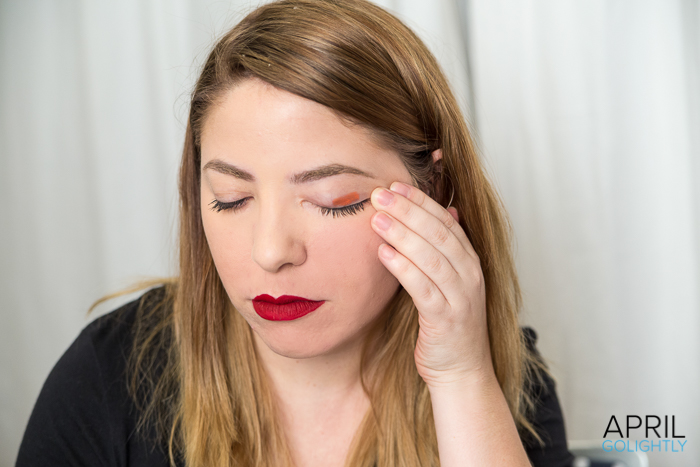 Next, add orange in a line above the red and blend in with the red so that the red graduates to orange.
Use the butterfly sticky stencil to create the flame whips on the side of the eye. Cut it out and stick it on. Then, paint the top wisps orange and the bottom wisps red. After that, you can use the  Tulip Glitter Glue and paint that on over the makeup and use brush to add red glitter over the color. You can do the same, if you wish over the red makeup on your lid. Tulip® Body Art® offers an extensive variety of professional-quality paint, glitter, hair and even black light products for Halloween and so much more!
Not good at freehand? No problem! Stock up on Body Art Stencils and brushes that make it easy to create artful designs.
You can do the same look on the other eye or make them look different like I did. Here, I added the red glitter under my eye and brought it upward. After all the eye makeup was done, I had to brush off some of the glitter fall out.
Lastly, I add the red glitter to my lips slowly using the Tulip Body Art Glue in small patches and pressed the glitter to the area using a makeup brush.
Check out the other blogger looks working on this project:



This post is sponsored by Tulip Body Art. All opinions, project ideas, and photos are my own. To see the latest goodies from Tulip, follow them on Facebook, Twitter, Pinterest, and their blog.
What do you think of my Katniss Makeup?