AFFILIATE DISCLOSURE: This post contains affiliate links. We earn a small commission from qualifying purchases.
Download this free sight words worksheet for your kids to keep them entertained and learning something at the same time. They will LOVE these President's Day coloring pages!
Here are some more Sight Word Worksheets to help your kids learn their sight words.
President's Day Coloring Pages
These coloring pages teach your kids to match words and colors. Through repetition, they will learn how to read and spell these sight words. And yes, it is totally free!
It's brilliance is how simple it is to do. Even non-readers will be able to know how to do it just by looking at it.
Save this for any day that the kids are home from school as a boredom buster, or keep it in a binder for something fun to do at the airport or on road trips.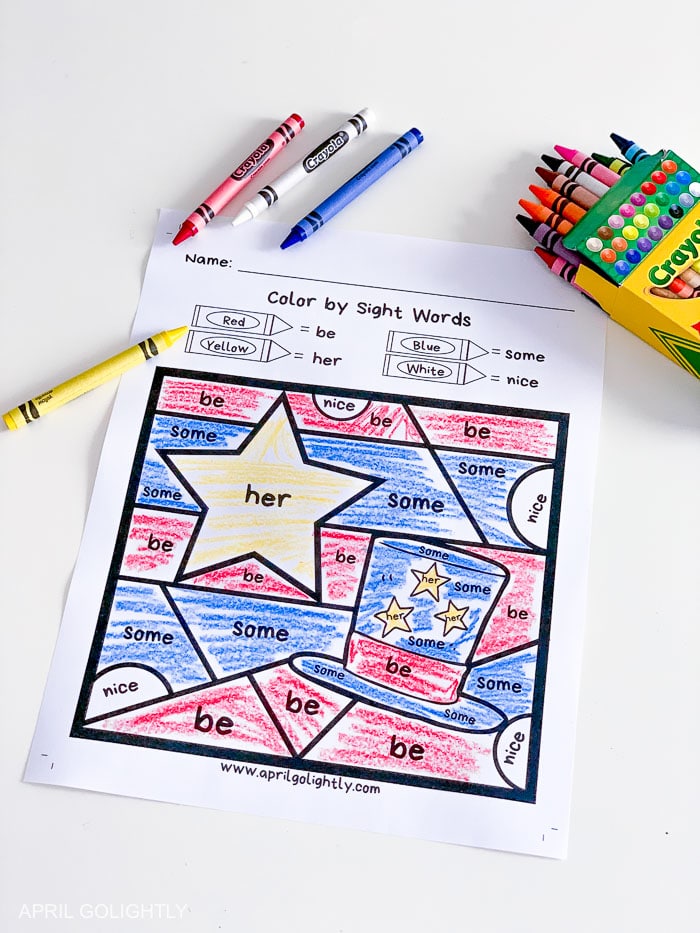 What is President's Day?
Use this chance to help your kids learn what President's Day is. It's an easy holiday to forget about and most people don't know the history or purpose of the holiday.
Here's a quick rundown, thanks to The History Channel:
It is always celebrated on the 3rd Monday of February
It was originally created on February 22nd, George Washington's Birthday, as a way to remember and honor him.
President Lincoln's birthday – February 12th – was a holiday in many states.
In 1971 President's Day was established on every 3rd Monday of February as a way to create more 3-day weekends for the nation's workers, combining Washington and Lincoln's birthdays.
While there are 4 past presidents with birthdays in February, none of them ever fall on President's Day.
After they finish coloring it, you can even ask your child who their favorite president was.
This Worksheet Can Double as Other Patriotic Holidays
Since this coloring page only has Uncle Sam's top hat and some stars and the colors red white and blue, it can be used for other holidays too. Use it again for any of these national holidays:
Veteran's Day
Labor Day
Memorial Day
Independence Day
What are Sight Words?
These coloring pages use sight words to build on early reading skills. What are sight words and why are they important?
Sight words are words that you see so often that instead of sounding them out, they become memorized. Some of the most common sight words include:
The
And
But
Where
Be
Her
Some
Nice
How to Use the Coloring Pages
These coloring pages are very self-explanatory. Each color is matched with a word. Color the words with their corresponding colors.
Free President's Day Sight Words Printable Coloring pages
Here's the free coloring pages! Download them, print them, and let your little ones have a blast. They won't even know they are learning something along the way.
More Free Coloring Pages
Need more printables? Try out some of these with your kids: