AFFILIATE DISCLOSURE: This post contains affiliate links. We earn a small commission from qualifying purchases.
Encourage your early readers to learn new sight words with these free printable Valentine's Day coloring pages.
Here are some more Sight Word Worksheets to help your kids learn their sight words.
Educational Valentine's Day Printable
My secret to encouraging my kids to do educational worksheets when they aren't at school is to make them themed around the current holiday. I never stop learning and I hope to pass that desire onto my kids.
I created some educational sight words worksheets to help my kids recognize certain words. These Valentine's Day Coloring Pages contain sight words from my daughter's Kindergarten curriculum.
Here are the sight words that are included in this Valentine's Day coloring sheet:
Love
Hug
Said
Away
And
The
What are Sight Words?
Sight words are words that appear frequently in reading. They appear so frequently, that kids end up just memorizing them and reading them by sight. Some of the most common sight words include:
The
And
Said
Because
Who
Where
Does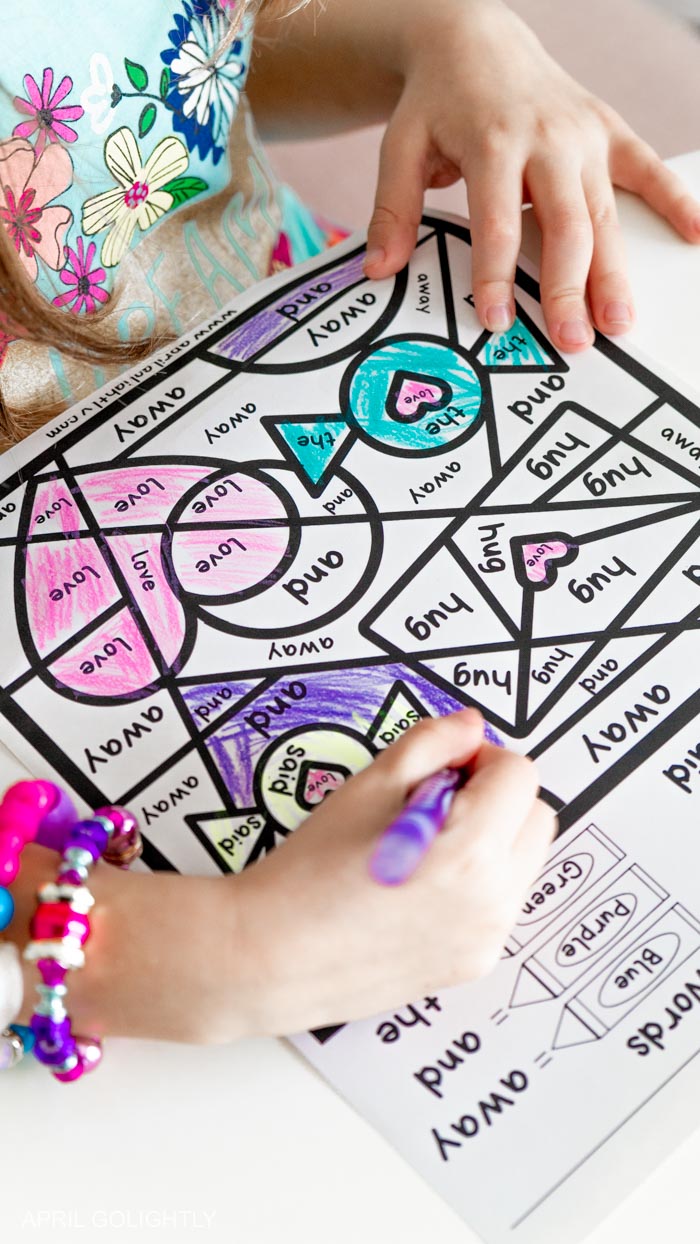 How to Teach Sight Words
With sight words and early reading, it really is all about just word recognition. So the more your child sees a word and reads it, the easier and faster they will read it next time.
There are lots of ways to teach sight words. One of the most popular is to tape words to objects around the home. Then, your child will see the words and recognize them easier and faster.
Another way is to help them recognize the words by providing them with fun worksheets like this one. These Valentine's Day Coloring Sheets help children remember the word because they color by sight word. It is a fun way to help kids remember words.
Sight Words Coloring Pages
This sight word coloring sheet has the sight words on the top next to the colors. Then, the child just has to match the sight word with the words in the coloring sheet aka Color by Sight Word.
This is like a really fun color-by-number. Except instead of numbers, they are matching the colors with sight words.
If your child can't read colors yet, you can color in the words so they can see the word and match it.
There are two versions of this coloring sheet you can print – one with sight words already filled in, and the second on is blank so that you can fill in the words or numbers you are working on right now.
How to Use the Blank Coloring Sheet
To use the blank coloring sheet, just hand write in the sight words that your child is currently learning at school.
Then, write those same words on the coloring page.
You can also use this as a way to teach math. Write a simple math problem next to each color. Then write the answer to each problem in the shapes below, so you child will match the problem with the answer.
Coloring Sheet Ideas
When is a good time to use the coloring sheets? Here are some ways to use them and hand them out as gifts.
Road Trip Activity
These make a really fun activity on road trips. All you need is a clipboard and some markers.
Classroom Handout
Hand out these activity sheets with small bags of crayons for an educational activity. They can replace the traditional cards, if you want.
Snow Day Activity
Add these to your collection of educational printables and pull them out on snow days when kids are stuck inside. They are a welcome distraction from screen time.
Free Educational Valentine's Day Worksheet
Download the free printable Valentine's Day themed sight words sheet right here. Don't forget to pin this so you can have some for next year too.
PRINT Valentine's Day Coloring Pages
More Valentine's Day Crafts
More Kid's FREE Coloring Sheets