AFFILIATE DISCLOSURE: This post contains affiliate links. We earn a small commission from qualifying purchases.
Download these FREE Disney Pixar COCO Printables Coloring Sheets of Miguel, Dante, Hector, and Ernesto de la cruz to color for Day of the Dead.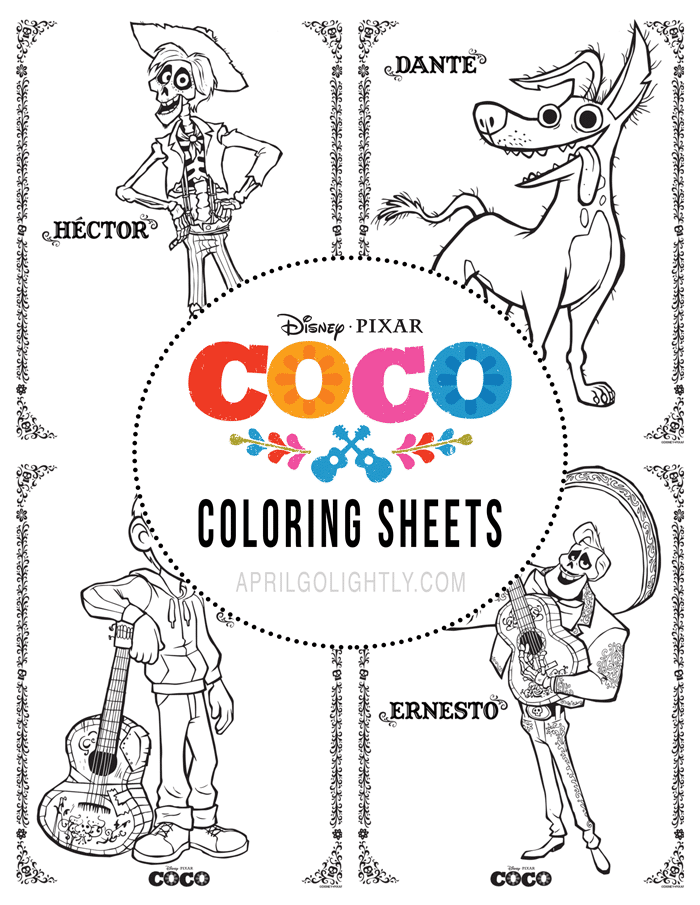 Download the PDF Disney Pixar COCO Printables
COCO Main Character – Miguel
A few weeks ago, I visited Pixar to see 35 minutes of the newest movie, Disney Pixar COCO. It is a beautiful story with an amazingly colorful setting. In Disney Pixar COCO, despite his family's generations-old ban on music, Miguel dreams of becoming a world-renowned musician and following in the footsteps of his idol, Ernesto de la Cruz.
Desperate to prove his talent, Miguel finds himself in the stunning and colorful Land of the Dead following a mysterious chain of events. Along the way, he meets charming trickster Hector, and together, they set off on an extraordinary journey to unlock the real story behind Miguel's family history. Directed by Lee Unkrich, co-directed by Adrian Molina and produced by Darla K. Anderson.
Dante
Dante is Miguel's dog and is Xoloitzcuintli which is Mexican hairless dog. According the American Kennel Association, Xolos are one of the world's oldest and rarest breeds, the Xoloitzcuintli can justly be called the first dog of the Americas. Learn more about Dante here and the History and Significance of Dia de los Muertos.
Their name is derived from the name of the Aztec Indian god Xolotl and Itzcuintli, the Aztec word for dog. With a reputation as a healer, the breed and its warm skin is often put to use in remote Mexican and Central American villages to ward off and cure ailments like rheumatism, asthma, toothache and insomnia. Xolos were also believed to safeguard the home from evil spirits and intruders. The

Ernesto de la Cruz
Miguel's Idol – Ernesto de la Cruz comes from the same town as him and people from all over Mexico come to the town to play music. The filmmakers wanted to fill the film and the town with music and did research on music in Mexico by bringing all kinds of Mexican musicians to the studio to hear (and record) them playing all sorts of Mexican instruments. The cords being played by the characters are actual cords played by musicians. Learn more about the Music of COCO here.
Hector
Hector is one of the main character in COCO. Hector's walk in the film COCO is inspired by Ratso in the film Midnight Cowboy played by Dustin Hoffman. The symbolized a brokenness as a character and the animators really like that as detail and wanted it to be part of Hector in COCO. Learn 11 Fun Fact Bringing Skeletons Life Pixars COCO.

Download your COCO Coloring Pages
Celebrate the Day of the Dead by watching COCO again this year and printing these coloring sheets for you and your kids to color together. It will be a blast!
Disney COCO Toys
You can also get some of these fun Disney COCO toys for your kids.
Get these Disney COCO ears on your next trip to Disney World for the Mickey's Not So Scary Halloween Party. If you really want to get into the spirit, you can get this COCO magic band for your trip. Learn more about Disney World Halloween here.


Trailer for Disney•Pixar's COCO
YouTube Link: https://youtu.be/bvomHFZO0mk
FOLLOW COCO ON YOUR FAVORITE SOCIAL MEDIA
FACEBOOK * TWITTER * INSTAGRAM * COCO WEBSITE
More Disney Printables
Are you looking for Sight Word Coloring Sheets? Here are some sight word worksheets for every holiday.