AFFILIATE DISCLOSURE: This post contains affiliate links. We earn a small commission from qualifying purchases.
Army green is a lovely color that looks fantastic on most skin tones. Today, I am so excited to be sharing what colors go with army green.
I fell in love with army green in high school with a top and sweater set that I found at Target. It was one of my set to to wear with brown suede mini skirt in high school. The green top was made of silk and I can still remember the smell of it like it was yesterday.
The choices for army green clothing and clothing in general has expanded so much since I was in high school. The sky is truly the limit now and you can find anything in your favorite colors like army green.
What Colors Go with Army Green
Turquoise
You can bright up an olive green dress or camo print with turquoise jewelry.
It honestly seemed extremely bizarre when I read this in a magazine years ago. I remember pulling out the page because I was so weirded out by the combination.
When I saw the army green and turquoise together for the first time, I was extremely surprised how well they went together. The magazine was right!
Coral and Army Green
Another color that came from that magazine page on matching army green was the color coral.
Again, I was not sold right away, but I had seen olive green and coral in prints together that looked good. It was more believable than the turquoise.
Since Coral and Turquoise are a natural match of colors, it makes a little bit more sense that the three of them belong together.
With coral, like turquoise, I like letting the army green piece be the focal point and the coral piece be the bit of a pop of color.
Black
Matching black with olive green is a natural and neutral choice. If you have a fun green top, you can easily pair it with a pair of black leggings or black jeans.
Gold
Army green looks best with gold and rose gold metallics. Matted gold is the best choice in my opinion, but shiny gold and rose gold also look fantastic.
Pinks with Army Green
Light pinks and mauves look really nice with army green. Seeing pink and green together remind of me spring flowers blooming. You can emulate nature with a nice army green and light pink or blush color.
If you have a pick purse, you could easily pair it with your olive green piece in your wardrobe.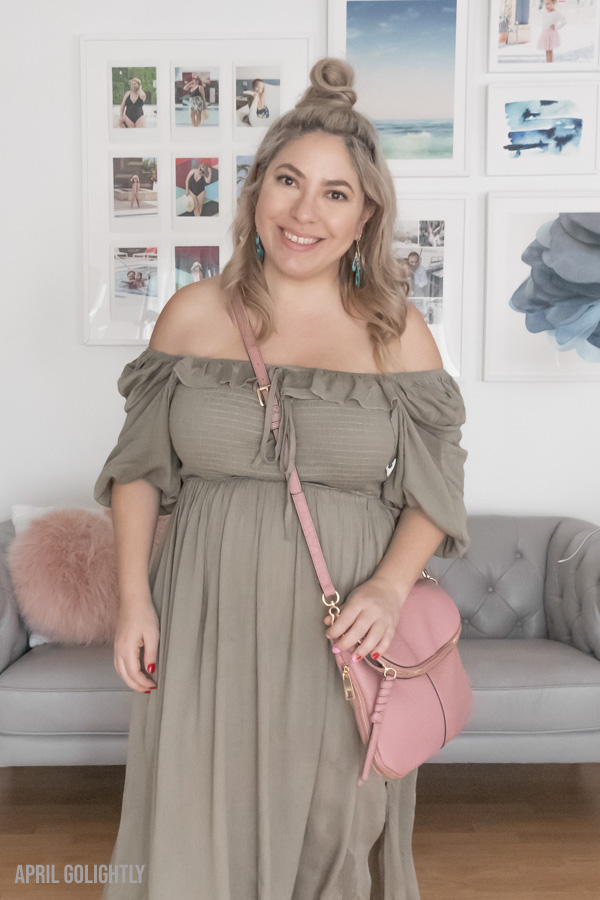 Here is the green dress that I am wearing above.
Black and White
If you have a bland and white print or stripe top, you could easily pair them with green jeans or green leggings. Black and white are always a green neutral print to allow a great color like army green to shine.
White
Grab your plain white tee and pair it with your green bottoms. This has to be the easiest and honestly on of the chicest ways to wear army green bottoms.
Tan or Cream with Army Green
You can easily pair your olive green pieces with tan, cream, and off white colors. They go extremely nicely together. They are both very earthy tone so it no surprise that that all pair together nicely.
Camel and Olive Green
Olive green looks fantastic with camel. The color combination of camel and olive green reminds me of going hiking or on safari. You can take it to a very casual place with worn in colors and fabric choices or make it very sophisticated by choosing a very nice fabric and nice camel leather accessories.
Jeans
Army green camo looks fantastic with jeans. I also love wearing my army green jacket with jeans. It is one of my most worn ways to wear army green. This also goes for a denim jackets. They are a great combo!
Hot pink
Am I crazy? Kinda crazy. Hot pink is a fun way to spice up army green. It also goes with neon pink. You will definitely stand out with these colors so proceed with caution. They match, but it is a whole lot of color!
Leopard
Once of my fave prints on earth goes great with army green! Heck yea! Break out your leopard and your army green and wear it all the time. It's awesomesauce and you need to have this combo in heavy rotation.
Bright Orange
When pairing olive green, you might want to get a little crazy and pair it with bright orange like I did here. I let the orange shine with the paprika colored dress pairing it with an army camo print bag.
Which color is your favorite for pairing army green?