AFFILIATE DISCLOSURE: This post contains affiliate links. We earn a small commission from qualifying purchases.
You just found your new favorite fall cookie recipe. Welcome to the best pumpkin spice cookies on the planet! They are made from scratch and taste like everything fall was meant to be.
Pumpkin Spice Cookies
Fall is my favorite time of year. I am so ready for the weather to cool down, (yes, even in Florida), and begin gearing up for the winter holidays. I love that time between summer and winter. It's like everything starts to chill out and slow down, just a bit.
And you know what is the perfect fall flavor? Pumpkin spice! Even if you aren't a very big fan of pumpkin-spice-everything that you see in the stores, you'll love these cookies. They are homemade, so they don't have that fake pumpkin taste. They are real. And they are really good.
One of my favorite things to snack on all fall long, are cookies. Sometimes, I'll eat them for breakfast. I pack them in my lunch. I eat them before I go to bed at night.
My pumpkin spice cookies make the best schoolroom treat for fall parties. The only thing that is even mildly an allergen is the flour. And you can make these cookies gluten-free if you need to. Just use gluten-free flour.
What is pumpkin spice?
Oh, pumpkin spice is just the most amazing concoction ever invented. It smells like a loving embrace. You can actually buy pumpkin pie spice as a pre-made mixture in the store.
Or, you can also make your own.
Here's my favorite pumpkin spice recipe:
3 tablespoons ground cinnamon
2 teaspoons ground ginger
2 teaspoons ground nutmeg
1 ½ teaspoons ground allspice
1 ½ teaspoons ground cloves
There you go! You can change that however you want. Some people like having a bit more nutmeg, others like increasing the cloves. Be careful – the cloves have quite a bite!
Now I will tell you – I didn't use the entire list of pumpkin spice ingredients. I only used cinnamon and nutmeg. This is because I thought the cookies tasted better with a milder flavor profile. But you can put substitute the cinnamon and nutmeg in the recipe with 2 teaspoons of pumpkin spice too. I bet you'll love it!
Pumpkin Spice Cookies Shopping List
Before you make the cookies, double-check that you have all the ingredients. Here is what you will need:
Butter, Granulated sugar
Baking powder
Baking soda
Cinnamon
Nutmeg
Egg
Vanilla
15 ounce can of pumpkin
Flour
Cabot Creamery Unsalted Butter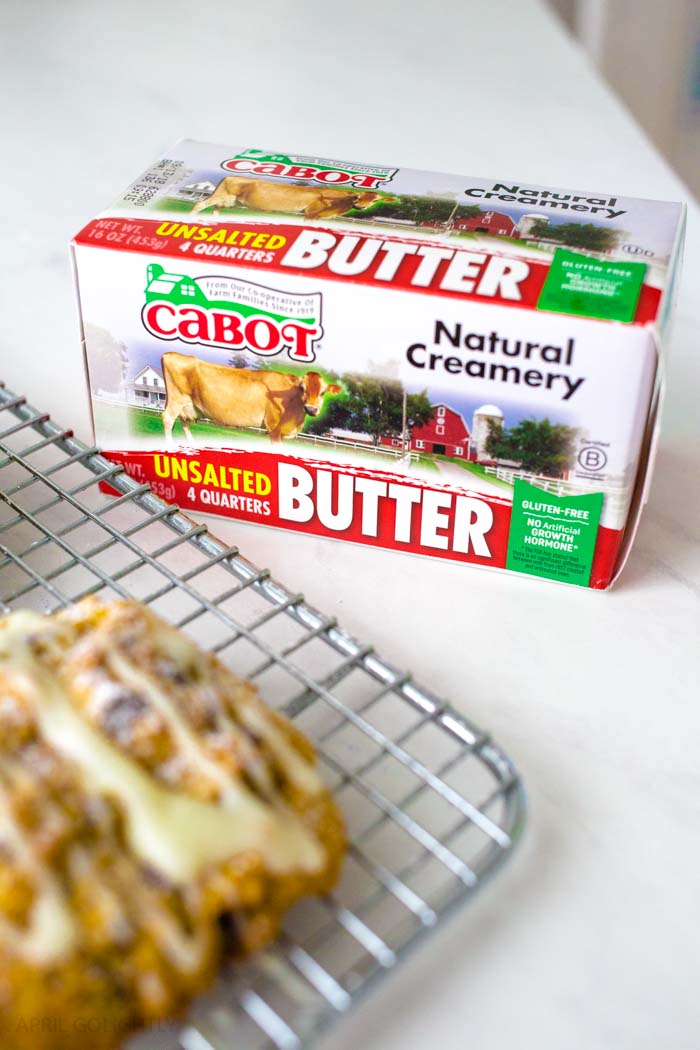 That's it! If you want, you can also purchase pumpkin spice or make your own.
Other Items You Might Need
As you are making these cookies, you might need a few baking products. I love and use these, so I bet you will too.
What to Serve With Pumpkin Spice Cookies
Honestly, you'll probably just eat them straight out of the oven. They taste the best when they are piping hot! (Who am I kidding? They taste just as good 3 days later).
But I love serving my pumpkin spice cookies with hot chocolate or even coffee.
These also make a really fun addition to school lunch.
How to Mix Up My Pumpkin Spice Cookies
Want to go beyond the boring? Here are some ideas to really make the delicious cookies even more amazing!
Put cream cheese frosting on top
Make bars with cream cheese frosting
Drizzle with salted caramel glaze
How to Freeze Cookies
You'll want to eat these all year long. So double – or triple – my recipe and freeze the rest. They last for 3 months in the freeer. So they really will last all winter long!
If you want to freeze your cookies, freeze them on the cookie sheet (on top of parchment paper) first. That way they won't stick to each other in one huge frozen clump. Then, once they are frozen solid, take them out and put them in a freezer bag that is completely sealed. Or you can also use a plastic container.
Pumpkin Spice Cookies Recipe
Here's the recipe for my cookies. Print it or save this recipe to your baking Pinterest board.
Print
Pumpkin Spice Cookies – Your New Favorite Fall Cookies
You just found your new favorite fall cookie recipe. Welcome to the best pumpkin spice cookies on the planet! They are made from scratch and taste like everything fall was meant to be.
Instructions
Set the two cups of butter on the counter until it gets to room temperature. Wait until it's soft, but not melted to start.

Preheat oven to 350 degrees.

In a large mixing bowl, beat the two cups of softened butter and two cup of granulated sugar with an electric mixer on medium speed until combined.

Add two teaspoons of baking powder, two teaspoons of baking soda, one teaspoon of salt, and the pumpkin spices – one teaspoon cinnamon, and one nutmeg. Beat until combined.

Then, beat in the two eggs and two teaspoons of vanilla until combined.

Next, add into the mix fifteen ounces of canned pumpkin.

Start adding the flour into the mixture in three parts.

Using a spoon, drop one tablespoon of cookie dough about two inches apart on ungreased cookie sheets.

Bake for 20 minutes or until top of the cookies are set. Check with a toothpick. When the toothpick comes out clean, they are ready to take out of the oven.

Transfer the cookies to a wire racks to cool.
Nutrition Facts
Pumpkin Spice Cookies – Your New Favorite Fall Cookies
Amount Per Serving
Calories 290
Calories from Fat 144
% Daily Value*
Fat 16g25%
Cholesterol 54mg18%
Sodium 330mg14%
Potassium 104mg3%
Carbohydrates 34g11%
Protein 3g6%
Calcium 30mg3%
Vitamin C 1mg1%
Vitamin A 3434IU69%
Iron 1mg6%
* Percent Daily Values are based on a 2000 calorie diet.
More Pumpkin Recipes
Now that you are making pumpkin spice cookies, keep up your momentum! Here are more pumpkin recipes!
Here are today's #PumpkinWeek Recipes:
Beverages:
Pumpkin Juice- Harry Potter Style from Jonesin' For Taste
Pumpkin Pie Bourbon Cocktail from Love and Confections
Savory:
Creamy Pumpkin Fiesta Chicken Soup from Amy's Cooking Adventures
One Pot Creamy Pumpkin Bacon Pasta from 4 Sons 'R' Us
Pumpkin Chili from It Bakes Me Happy
Pumpkin Chorizo Tamales with Pumpkin Mole from A Kitchen Hoor's Adventures
Pumpkin Grilled Cheese Paninis from Eat Move Make
Pumpkin Hummus from Sweet Beginnings
Pumpkin Mac and Cheese from Everyday Eileen
Pumpkin Pizza from Platter Talk
Savory Loaded Pumpkin Cornbread from Who Needs A Cape?
Savory Pumpkin & Pepper Goat Cheese Tart from Hardly A Goddess
Baked Goods & Desserts:
Chocolate Chip Pumpkin Bread from House of Nash Eats
Fluffy Pumpkin Buttermilk Pancakes from The Redhead Baker
Fluffy Pumpkin Pie Dip from The Beard and The Baker
Mom's Classic Pumpkin Pie with Vanilla Whipped Cream from Family Around the Table
No Bake Pumpkin Cheesecake from Cooking with Carlee
Pumpkin Banana Bread from A Day in the Life on the Farm
Pumpkin Cake Roll from Strawberry Blondie Kitchen
Pumpkin Cheddar Skillet Corn Bread from Tip Garden
Pumpkin Creme Brulee from Cookaholic Wife
Pumpkin Ginger Donuts from Daily Dish Recipes
Pumpkin Kolaches from The Spiffy Cookie
Pumpkin Maple Bark from Seduction In The Kitchen
Pumpkin Oatmeal Muffins from The Bitter Side of Sweet
Pumpkin Pecan Pancakes with Caramel Syrup from The Chef Next Door
Pumpkin Pie Crescents from Hezzi-D's Books and Cooks
Pumpkin Pie with Marshmallow Meringue from The Crumby Kitchen
Pumpkin Snickerdoodles from Culinary Adventures with Camilla
Pumpkin Souffle from Caroline's Cooking
Pumpkin Spice Cake Roll with Maple Bourbon Cream from Grumpy's Honeybunch
Pumpkin Spice Dessert Hummus from For the Love of Food
Pumpkin Spiced Cookies from April Golightly