AFFILIATE DISCLOSURE: This post contains affiliate links. We earn a small commission from qualifying purchases.
The red bag outfit is a timeless classic. Whether you are looking for something to wear to work, or want to dress up for an event, there are plenty of red bag outfits that will flatter your figure and make you feel confident.
The key with any look is confidence – once you have it on, the rest just falls into place! We have compiled 20 different looks. From casual office attire to glamorous evening gowns, we have all of your needs covered in this post.
Last year, I purchased this amazing red bag, but it sat in my closet unused!! Tragic…right?! I made it my mission to put together red bag outfit ideas to help me use my red handbag everyday! Here are all the looks that I have put together to go with my red handbag.
Red Handbags
Let's start with some awesome red handbags! Here are some of my favorites!!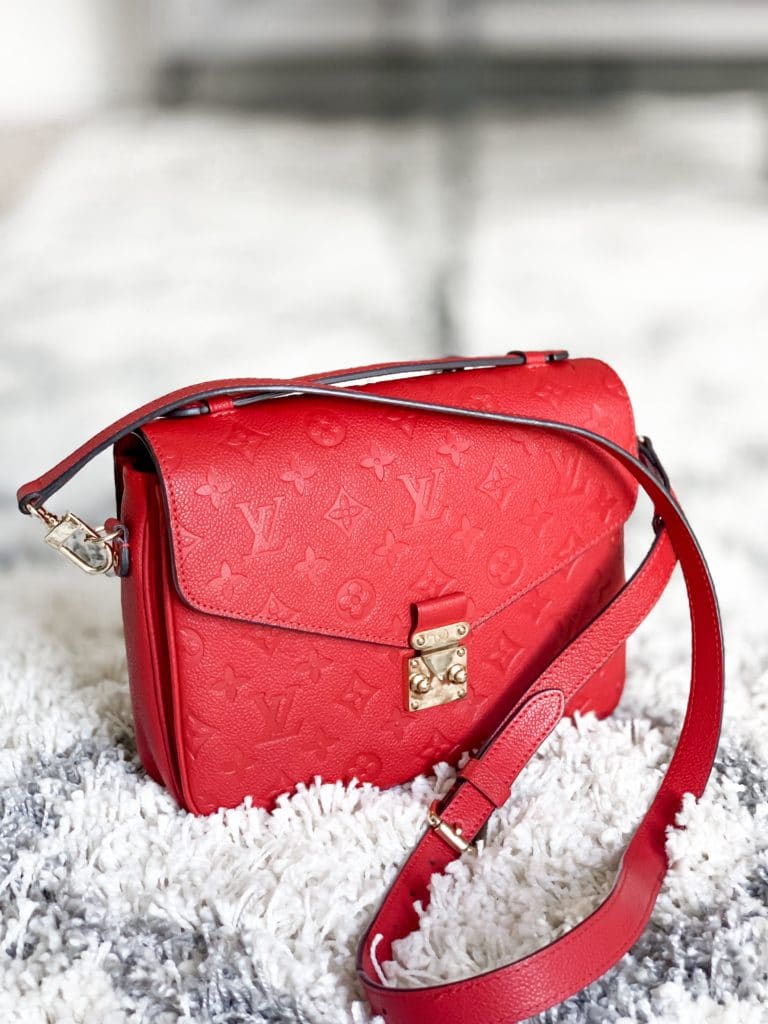 Red Gucci Bag
Gucci has so many awesome red bags!! No surprise – they are know for their red and green seat belt strap.
The new Gucci Marmont bags with the brushed brass GG on the front are to die for. I have one in white and have been wearing it non-stop. The Gucci Marmont shoulder bag can be worn on the shoulder or as a crossbody bag.
There are a ton of sizes and style of Gucci Marmont bags (the mini is super cute) to choose from. I have the Small one and it the perfect size for day time and night so you can fit some makeup, wallet, keys and a big cell phone.
I have played with the other Marmont purses in store and the bigger you go, the more the bag reads old lady. No matter your age (or mine), I don't think anyone wants to feel like an old lady! I wanted so much to love the top handle because it would fit my camera, but all that quilting is just too much!
The mini Marmont bag is a little to small for me, but might be good for you if you have small phone and a small wallet. They also have a backpack and a belt bag!! I have an old school Gucci bag that is amazing!! It's taken through it all!!
I also really like small matelassé shoulder bag. It is similar to the Gucci disco bag in size and shape.
Valentino Rockstud Crossbody
The Valentino Rockstud Bag is deceptively small. You can fit a whole lot in that tiny looking bag. I can fit everything that I need on daily basis like cell phone, wallet, sunglasses, keys, makeup compact, and lipstick with space for other little goodies!
My little goodies are: cotton swabs, flossers, business cards, hair ties, sanitary wipes, mini medicine holder for my allergy meds, and an inhaler for my asthma. Obvious the little goodies vary depending on where you are going.
Louis Vuitton Pouchette Métis
The Louis Vuitton Pouchette Métis has three pocket dividers on the inside and one on the outside. This is a great way to organize your stuff if you can remember where you put your stuff.
Not gonna lie, I have gotten really annoyed with all these pockets. I am used to wearing a bag with one big compartment.
Now that I started wearing this bag more, I have gotten in the routine of putting my stuff in the same place. Here is how I lay it out so I don't forget and am frantically looking for my phone while I miss a great photo!! #MomLife & #BloggerLife can sometimes be stressful!!
For the Pouchette Metis, I put my phone in the back zipper pocket, my wallet, medicine, keys in the big middle pocket, and then my sunglasses with makeup in the back pocket.
In the front pocket, I put any documents that I need to take with me and also receipts and shopping lists. The Métis only works for me when I keep the items in their home within the bag.
Deals on Stylish Red Purses
For those of us that can't always afford to put so much money into a trendy item like a red handbag, here are some less expensive stylish red handbags.
Red Bag Outfit Ideas
Navy Blue and Jeans
One of my favorite ways to wear my red handbag is with navy blue and jeans. You can go matchy matchy and wear red shoes too or go for a pair of metallic or camel shoes too.
Nautical Prints & Stripes
Red bags looks fantastic with nautical stripes! I absolutely love this look almost all year except during the dead of winter. You can wear nautical stripes all spring, summer and even fall by choosing heavier fabrics like this stripe dress.
My favorite places to find nautical prints is at the Gap or Old Navy. They always have a cute navy blue and white stripe top to go with jeans. You can even find mommy and me looks at Old Navy. Check our our Mommy and Me shopping guide that we keep updated every month.
Snow Leopard
The black, white, and grey snow leopard print looks fantastic with a statement bag. Who knew?!
Leopard Print
The classic accessories for leopard print are always red. I cannot see leopard without thinking about red purses!!
Camo Print
Red and green are amazing together because they are complimentary colors. The primary versions of red and green red very Christmas and festive.
During the holidays, rocking a red bag with a Christmas sweater makes total sense, but the rest for year, I would steer clear of primary red and green together. Instead go for a military green or a camo print to match your red handbag.
CHRITSMAS PLAID OR PRINTS
Prints with Red
These Red bags look fantastic with prints with a tiny splash of red in them. Anytime I see a dress with a little bit of red in it, I try to see if it complements my red bag. For the Louis Vuitton Pouchette Métis, you can take off the strap and use it as a handheld clutch bag.
Black & White Outfits
Of course, red looks fabulous with black and white. You really can't go wrong with a red statement bag giving a pop of color to a classic wardrobe. A lot of people wear black and white everyday. If this is you, a red bag is great choice for you.
Pink Outfits
Pairing red and pink started for me when Sarah Jessica Parker famously wore red pants and a pink top together.
Since then, I have been all about wearing pink and red together. Now that I am more interested in colors, it makes so much sense for pink and red to go together because they are analogous colors on the color wheel.
Black Jeans
A good pair of black jeans are my jam!! I like to wash my jeans pretty often so I blow throw black jeans in about 6 months with normal wear.
I miss the days of no children when I rarely ever washed my jeans. It sounds gross, but you can keep that deep dark black much longer with limited washing.
Black jeans look good with a black top, white top, and grey top with your statement red bag.
Grey Outfits
Gray looks fantastic with a red bag. It is one of my favorite colors and my go to choice when picking out clothes. It's so easy to wear and is very flattering on most skin tones. Also, it washes and wears extremely well.
White Outfits
Red bags add a pop of color to an all white outfit. This looks fanatics in summer time.
Red, White and Blue
For patriotic holidays like 4th of July, Memorial Day, Veteran's Day, Election Day, and Presidents Day. You can wear red, white and blue any day, but these are especially festive and patriotic days to wear the colors together.
How do you wear your red handbags? Leave your ideas in the comments below.