AFFILIATE DISCLOSURE: This post contains affiliate links. We earn a small commission from qualifying purchases.
What to Pack for a 4 Night Caribbean Cruise
Media rates and, in some cases, comped activities were provided to showcase this venue properly. As always, all opinions are 100% my own. All photos of April taken by my roommate on the Royal Caribbean Cruise, Arena of The Nerd's Wife unless otherwise noted.

I somehow convinced my husband, Kevin to watch my nearly 9 month old daughter while I went a Royal Caribbean Cruise on the 3rd largest cruise ship in the world, Liberty of the Seas with a bunch of my mom blogging friends. Needless to say, he is the best hubby in the world and I should be thankful for him everyday. Sometimes, I need to be reminded how lucky I am and this 4 night Royal Caribbean Cruise was a reminder how awesome he is. He even wrote an awesome blog post for me while I was gone…check it out…it's funny and sweet. OK…enough raving about how awesome Kevin is and back to the Cruise Packing!
I spent weeks researching what to pack for a cruise watching YouTube Videos and reading tons of blogs and websites preparing to pack. It took me about a week to pack all with the goal of putting together an awesome go to guide to cruise packing for my readers. I hope that my hard work saves you time and money and allows you to enjoy your cruise.

What to Pack for a 4 Night Caribbean Cruise
1 formal night outfit
5 coverups
3 bathing suits
1 hat
1 Beach Bag
1 Cross Body Bag
1 Easy to Carry Camera Bag
2 pairs of wedged sandals
2 pairs of comfortable flip flips
3 pairs of sunglasses
2 pairs of PJs that can double as lounge wear
1 pair of jeans
1 sweater
1 cardigan
4 Dresses
1 pair of shorts
3 tank tops or cute daytime tops
1 Set of Accessories that goes with all the outfits.

What to wear and carry on the ship on Day 1
Wear something that will work for day and night that is comfortable like a comfortable dress and extremely comfortable shoes or flip flops. I chose to wear Sperry flip flops that are very supportive and comfortable. I would not recommend a shoe with no support like a Havianas. In a small carry-on bag , pack your travel documents, bathing suit, and any medications you may need. It will be great to have these items so that you will not have to wait for your checked bags to get to your stateroom. I tipped the bag check man $20 and my 2 large bags got to the room well before my roommate's bags. I also did not check my camera bag or my computer bag. You will be walking a lot so the less you carry the better.
Since my bags came in before dinner, I switched my flip flops out for a pair of white wedges. I wore my camera bag and put my phone in there with my set sail card that acts as a credit card and room key.
Heather of Our Kids Mom is in purple above. April's dress and sandals are both from Bealls Florida.
For after dinner, I packed a cute pair of pajamas, eye mask, and a bathrobe.
Day 2 Outfits for a day at Sea
During the day, I wore a bright color dress with a very comfortable pair of flip flops from Clark's. Comfort is key when it comes to choosing flip flops for traveling.
April's dress and sandals are both from Bealls Florida. Here are few dresses in similar fabric that will not wrinkle. Sandals are Clarks Breeze Lane.
Before dinner, I hung out in the hot tub with a few of blogging girls. I wore my Tommy Bahama Zebra one piece (similar here and here) and a Zebra print scarf sarong from Stella and Dot (similar from Stella & Dot here). I started with the sarong just covering my bottom and then I put it on as a dress trying it around my neck after I got out of the hot tub. If you want to protect your skin, sunglasses and a hat are key. If you don't want to crush your hat, you can wear it on the cruise like I did or stuff it with clothing in your suit case so that it retains it's shape.
Bloggers from left to right: Arena of The Nerds Wife, Jamie of Toys in the Dryer, Jessica of Mommy Has a Life and April of April Golightly.
Bloggers from left to right: Arena of The Nerds Wife and April of April Golightly. April is wearing Tommy Bahama Bathing Suit, Hat from Sears, and Sunglasses from Peter Pilotto for Target (here a few pairs of cute black & white sunglasses)
How awesome is this hot tub pod? It hangs over the side of the ship so that you get an awesome panoramic view of the water. It's amazing!
3 Photos above are c/o Jaime of Toys in the Dryer.
This was our formal dinner night so I packed a few cute dresses to choose from and decided to go with my Karina Dress because it did not need to be ironed. Turns out that there is no iron in the staterooms and if you want your clothing pressed, you can get it done by a crew member. If I did not bring my Karina wrap dress, I probably would have paid to have my clothes pressed, but it ended up working out perfectly. The dress was life saver, because I even ended up wearing it on the last day as well. It goes easily from formal dinner to day-wear. I wore it recently to a fashion event. The dress looks black here because the camera was not cooperating in the cruise hallway. Check out better pics of the dress here.
I paired the Ruby -Karina Dress with a pair of white wedges that match all the dresses that I brought. Also, my Wink & Winn crossbody bag matches everything and keeps my hands free so that I can enjoy myself.
April is wearing the Ruby c/o Karina Dresses and Cross Body Bag c/o Wink & Winn.
Day 3 Outfits for Excursions and/or Beach/Pool Day
I brought 3 Bathing Suits and 5 Coverups so that I would have options. 3 of the coverups were sarongs  and 2 were coverup dresses that would allow me to walk around the ship without feeling self conscious. I packed 3 bathing suits as they don't dry overnight and I wanted to be able to go to the pool everyday.
I wore one cover up onto the island with my bathing suit underneath and brought 2 more just in case they got wet. The coverups that I brought along included: 1 dress that can be worn on it's own, 1 dress that must be worn over a bathing suit, and 1 sarong.  I also brought my Vera Bradley camera bag and a beach bag with a bra and underwear just in case I wanted to change out of my bathing suit. I left it on the whole time, but I wanted the option. I wore a hat, sunglasses, my Clark's flip flops and ended up only using 2 out of 3 coverups.
Photos taken by Jen of My Sweet Sanity. Orange Bathing Suit is c/o Zingara Swimwear (similar orange bikinis here)

Sightseeing Outfit

Photos taken by Jen of My Sweet Sanity.

Navy T-Shirt Dress from Target (similar, similar) with Vera Bradley Camera Bag, Nine West Sunhat (similar), Clarks Flip Flops
2nd Coverup
Photos taken by Jen of My Sweet Sanity. Coverup from Bealls Florida. (extremely similar here)

Rock Climbing Outfit
After coming back from the excursions, we went rock climbing and boogie boarding on the Flow Rider. I wore a pair of shorts and a white tank top to rock climb. I am usually against wearing shorts, but this is the only time that I think it is necessary to pack a pair.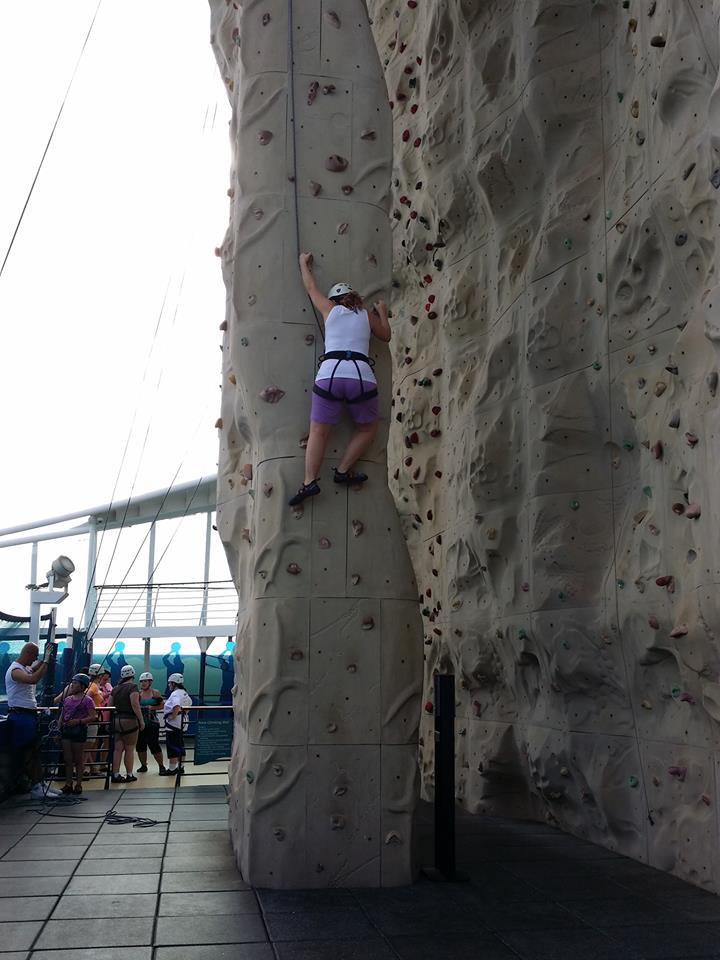 Shorts from Land's End (exact) and Top leftover from Motherhood Maternity.
Flowrider Outfit
I was not planning on going on the Flow Rider because a few days earlier I saw a woman wipe out on the surf board flashing a crowd. I decided to try it when they opened it up to boogie boarders rather than the standup surf board. It was much easier.
I packed a few pairs of stretch pants and cute tank tops for comfortable walking around outfits, but I only ended up only wearing 1 set so I think this was a waste of prime suitcase real estate.
 Day 4 Ship at Sea
I spent most of the day by the pool this day. During the day, I wore a tankini bathing suit and long dress coverup. Check out the outfit here.
At night, I wore a long sleeve surplice dress from Ann Taylor (last worn here) (similar in leopard here) with black patent leather wedge sandals that are super comfortable. I wore this out dancing later that night. If this had been an outdoor dancing, this dress would have been perfect, but since it was indoor dancing at the Catacombs, it was very hot for me. I love to dance and pushed myself to the limit.
Jen of The Rebel Chick is wearing a red Karina dress above.
I did not end up going Ice Skating, but if you plan on trying it out. I recommend bringing a long sweater and jeans. Although, my cardigans are not pictured, I brought a cardigan with me everywhere at night. Because of the wind, it can get a little chilly on the boat at night. Land's End has a cute cardigan available every color under the sun. It easily drapes over the shoulders if you are only a little bit cold.
Stay tuned for more posts about my experience on Royal Caribbean Liberty of the Seas! Until then, check out all that Royal Caribbean has to offer on the Liberty of the Seas, as well as their other cruise ships! They have some awesome deals!
You can find out more on the Royal Caribbean website  about the on-board amenities and shore excursions and find a cruise near you!
Where do you want to travel on your cruise?