AFFILIATE DISCLOSURE: This post contains affiliate links. We earn a small commission from qualifying purchases.
One of our favorite things at Disney World is celebrating Halloween with Mickey's Not So Scary Halloween Party. This year we decided to wear one costume and bring a second to change into half way thru. We made is the DIY 101 Dalmatians Costume for Mickey's Not So Scary Halloween Party using the Cricut. Learn how to create this matching Disney Bounding Halloween costume with the tutorial below. 
Disney Halloween Costumes
My daughter is obsessed with Disney costumes and wears them all the time to play dress up and act out her favorite Disney movies. 
Her skin is also extremely sensitive and she can only rock them for about an hour before the complaining starts! On Halloween, it's no big deal because it's cold enough to wear an extra layer underneath the costume.
At Disney in August and September, wearing an extra layer is not an option! It's still warm. That is why we decided to make our own costume using the Cricut. 
Frozen 2 Costumes
Our first matching costume is of Anna and Elsa for the new movie Frozen 2! You can shop my daughter's Elsa costume here and the cape that I am wearing here. I am wearing a navy dress that I added a gold Cricut vinyl so that it sort of looks like Anna's new costume from the new Frozen 2 movie. We are so excited to see the new Frozen 2 movie!! COMING SOON – Get some free activity sheets for the new movie here. 
Mickey's Not So Scary Halloween Party 
This years Mickey's Not So Scary Halloween Party was so much fun. Now that my daughter is 6 years old, she can make it through the whole night up until midnight! She took a little nap before we got to the park while we were driving and that helped her be ready for the fun. 
I have written about the Halloween Party many times and in fact already went to the Mickey's Not So Scary Halloween Party with my friends earlier this year. You can read the post about everything that is new with the Halloween Party this year here. In the post, I have pictures of us all dressed up as Disney Princesses with tutus! 
During my time at Disney World this time, I discovered a new secret way to watch the fireworks. My daughter usually does not like the fireworks and the fireworks going off is usually our cue to leave. This time right before the fireworks went off, we got on Thunder Mountain right as they were starting to go off.
Thunder Mountain is always awesome, but this took the ride to the next level. It was so much fun to watch the fireworks go off through the sky while we were on the open air rollercoaster.
Get your Mickey's Not So Scary Halloween Party tickets here.
DIY 101 Dalmatians Costume
The next matching mommy and me look are Dalmatians Costumes from 101 Dalmatians. This is a fun Disney costume and you can even wear them as Disney Bounding any day of the year at Disney World.
If you want to this into a large family costume, one of the family members can wear a Cruella de vil Halloween costume with a black and white wig. Including the Disney Villains like Cruella Deville is part of the fun of the Mickey's Not So Scary Halloween Party.  All the kids can be dressed up as Dalmatian puppies. 


Tools & Supplies
For this Disney Bounding Dalmatian Puppy costume, I turned one of my daughter's alligator clip white bows into a Dalmatian print bow to clip onto her Minnie Mouse ears. The traditional red Minnie Mouse ears worked perfectly as a base for the clip as the red from Minnie's bow matches the red belt. 
Cricut Design Space did not have Dalmatian print that I could find. I drew mine on Procreate and you can get it here. You can download it for FREE here. It is an PNG file you can upload into Cricut Design Space and convert it into a cut file with ease. 
DOWNLOAD THE PNG Dalmatian Print HERE 
How to Print Using Cricut Iron-On
To use Cricut iron on vinyl, you should use the green circuit sheet with the medium stickiness.
Place the vinyl shiny side down on the green standard grip Cricut mat. Use the scraper to burnishing the material so it is secure it to the standard grip mat. This helps avoid bubbles in the iron-on vinyl. 
Load the standard grip mat into the Cricut machine with the iron-on vinyl. Using the arrow button to make sure the Cricut pulls mat in properly. I have done this wrong before and you will ruin your mat and waste your material. You should double check to make sure so that you do not make my mistake. 
Mirror the Image 
Since this images is pretty much the same either way, you don't need to mirror the image. If you are printing anything else on the iron-on vinyl, you will need to mirror the image.
Weed the Vinyl
Use the Cricut tools to weed the animal print. You should cut the contact paper so that it is the size of the place you want to put it on the shirt and pants. 
How to Apply Everyday Iron-On Vinyl
Set up your Cricut Easy Press 2 by plugging it in and seeing what setting you should use based on the Easy Press 2 Heat Guide. 
Measure to make sure you have the design and where you want them.
Set the design in place. Then, remove to preheat the area for 5 seconds. Since we are using Cricut Everyday Iron-On Vinyl, we are following the Easy Press 2 instructions. 
Then, apply the iron-on vinyl using the Easy Press 2 at 315°F 30 s with light pressure. 
Remove the Easy Press and put it back on the cradle.
Then, peel the contact paper when it is warm. 
Complete the DIY 101 Dalmatians Costume 
To complete this look, I added a red belt bag to me and my daughter's outfit. The one she is wearing came with an outfit from American Girl (see it here), but I found this one here that will look great with this Dalmatian outfit and beyond. We have this exact one in pink so I can recommend it!
Here is the adult version of the belt bag. I really enjoyed wearing because it made it very easy to grab my phone and wallet. 
For my outfit, I just ordered a top and shorts from ASOS by searching Dalmatian. They have a few pieces right now, but you best bet is to find an all white outfit that you like and cover use the Cricut to make your own costume.
As of right now, the Disney Store does not have a Dalmatian costume, but they might in the future. It is worth a check if DIY is not your style. 
If it is still sunny when you get to the park, you can also rock these red heart sunglasses. Here they are for adults and another pair to match for kids.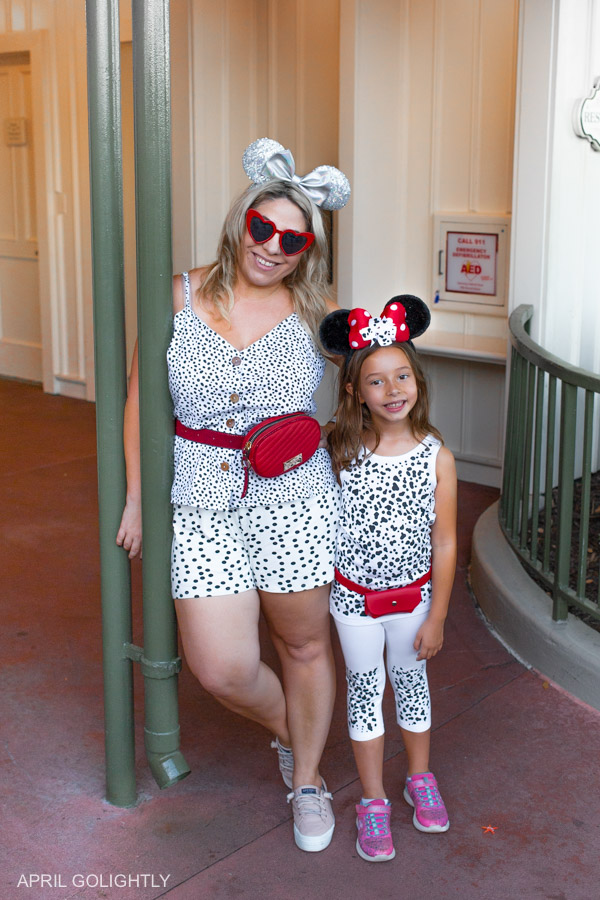 More Cricut Projects for Back to School