AFFILIATE DISCLOSURE: This post contains affiliate links. We earn a small commission from qualifying purchases.
How to Clean Mini Melissa Shoes
My favorite neighbor has gotten me addicted to Mini Melissa shoes. They are very cute stylish, comfortable shoes that are supposed to be Eco-Friendly. For me, it started with a pair of pink bows, and now I have about seven pairs in 2 different sizes.
Everything was going fine until I picked my daughter up from school with a horrific stain on her Darth Vader Mini Melissa shoes. I was so upset and could not imagine what could have made such a stain. Obviously, stains are bound to happen when kids are involved.
I started by reading a ton online and asking the Mini Melissa mom experts for advice. This Mini Melissa Cleaning tutorial is based on their tips and going through the process serval times.
Here are a few things to keep on hand if you want to keep you Mini Melissa looking brand new all the time and just in case the a stubborn stain happens to pop up.
Tools & Supplies for Cleaning Mini Melissa Shoes

Large Jars
Oxy Clean Spray Laundry Spot Cleaner
Oxy Clean – Original Powder 
Mr. Clean Magic Eraser
10% peroxide acne medication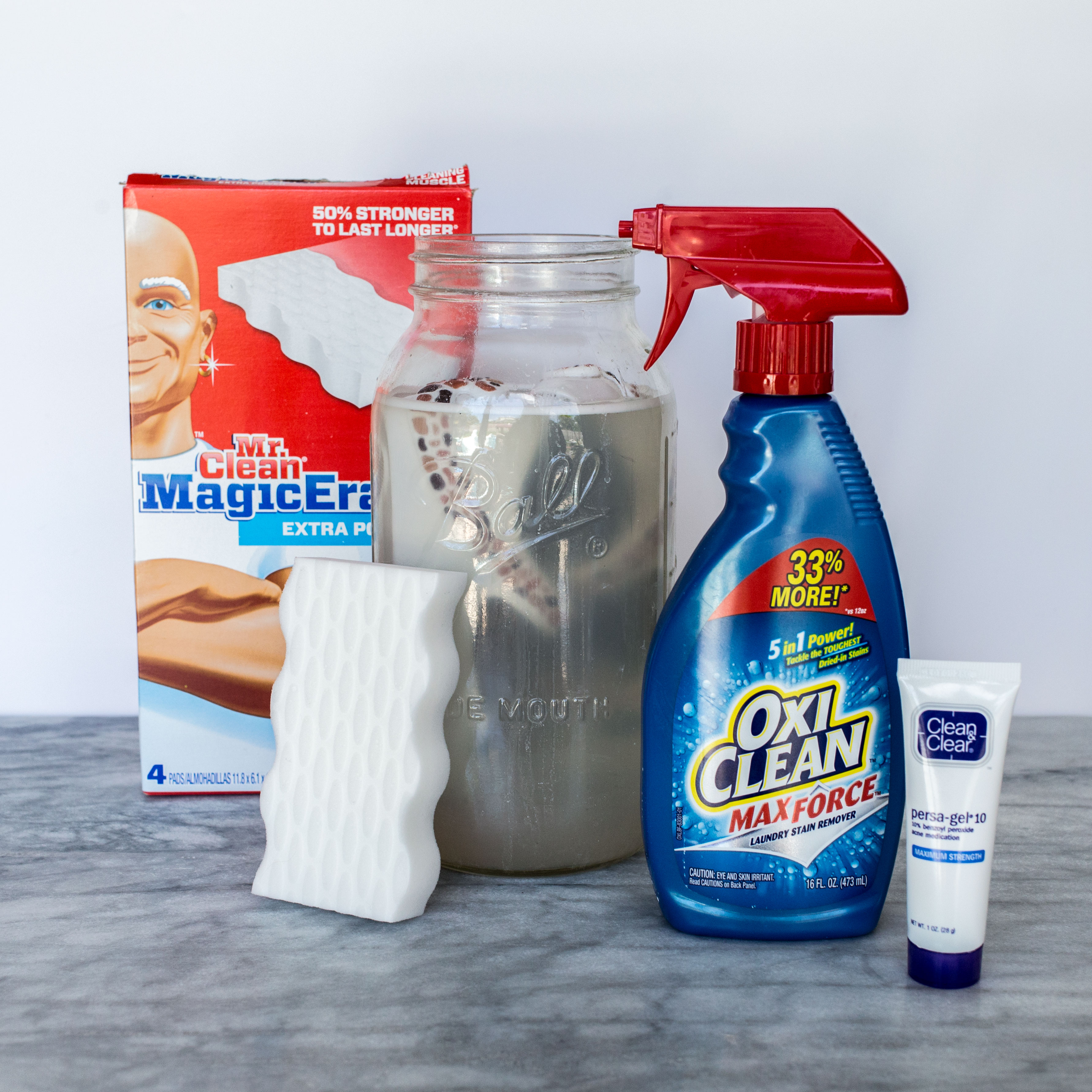 The best way to spot clean the Mini Melissa shoes is with the Mr. Clean Magic Eraser. I am a huge fan of them. They saved my white bag and had used it to clean tough to budge stains. They work great on everyday dirt and even some stubborn stains. I look over the Mini Melissa's ever few days to ensure there are no stains sitting for too long.
After a dirty play in the grass or sand, I give the Mini Melissa's a full service clean. I start by scrubbing any stains with the Mr. Clean Magic Eraser. Then, I spray the food beds with the Oxy Clean Laundry Spot Cleaner and let sit for 10 minutes. Next, I heat water in the jars in the microwave for 2 minutes so that it is not quite boiling. In each jar dissolved a 1/2 cup of Oxy Clean Detergent. Submerge the shoes in the large jar and let soak for 1 hour. Rinse with cool, clear water and let dry in a shoe rack (formerly a bottle rack).
If you have a stubborn stain that doesn't come out during the process, you can try this tactic. I have only done it on white Mini Melissa's so far. I cannot promise that this will work on other colors. Lather the 10% Peroxide Acne Medication in a thin layer over the stained area. Leave outside in the sun in 15-minute increments. Clean it off with a white paper towel and water.
How to Clean Mini Melissa Shoes Everyday
My daughter gets her shoes pretty dirty and sandy every so I like to clean them almost every time she wears her Mini Melissa shoes. I wash the shoes in the sink to get the sand and dirt out of the shoes. Then, I go over the shoes with the Mr. Clean Magic Eraser. You can also wash the shoes in the  washing machine on low, cold water, and no spin. I usually put them in with a white towel so they don't get thrown around too much.
Let me know how your cleaning goes! Thanks for reading! If this is helpful to you, please share and follow along your favorite social media sites
Like APRIL GOLIGHTLY on Facebook
Follow APRIL GOLIGHTLY on Twitter @April_Golightly
Follow APRIL GOLIGHTLY on Instagram @AprilGolightly
Follow APRIL GOLIGHTLY on Periscope @AprilGolightly
Follow APRIL GOLIGHTLY on Snap Chat @April Golightly
SEE ALSO: