AFFILIATE DISCLOSURE: This post contains affiliate links. We earn a small commission from qualifying purchases.
I have been on this healthy kick lately, but I really don't want to give up eating dessert. One of my favorite things to snack on are these Paleo Cauliflower Dessert Rice Pudding. The ones in the stores aren't fattening, but they are filled with preservatives. I figured that I would try to make it myself with cauliflower rather than regular rice to make the recipe Paleo. While rice is not so bad, I would rather eat my grains in the form of bread. MMM bread! One of my favorite things on earth…but I digress.
Health Benefits of Cauliflower
Cauliflower is a pretty amazing food and is said to have tons of health benefits. I am not a medical doctor, but based on what I have been reading: Cauliflower fights cancer, boosts heart health, works as an anti-inflammatory, boosts brain health, and also has digestive benefits.
Cauliflower also has much-needed nutrients with the 77 percent of the recommended daily value of vitamin C. It's also a good source of vitamin K, protein, thiamin, riboflavin, niacin, magnesium, phosphorus, fiber, vitamin B6, folate, pantothenic acid, potassium, and manganese.
It is also rich in antioxidants and phytonutrients. It's filled with goodies like vitamin C, beta-carotene, kaempferol, quercetin, rutin, and cinnamic acid. Antioxidants help provide your cells with extra defense against free radicals. Antioxidants in the body help resist aging caused by your everyday exposure to pollutants and stress.
Cauliflower Dessert
This Cauliflower Dessert is the perfect dessert for someone who is trying to lose weight or maintain their current weight. This cauliflower rice pudding is fat-free, vegetarian, paleo, gluten-free, sugar-free and it still tastes great! You can learn all about how to eat paleo here with this beginner's guide.
Trader Joe's Cauliflower Rice
I used a bag of frozen Trader Joe's Cauliflower Rice, but you could definitely make your own and get even more nutrients from fresh organic cauliflower.
Make it Whole 30 Cauliflower Rice Pudding
To make this Whole 30 Cauliflower Rice Pudding, you will need to use Whole 30 compliant Coconut Milk. My favorites are Trader's Joes Coconut Milk or Thai Kitchen Unsweetened Coconut Milk. Also, for Whole 30, you can skip the sweetener.
Paleo Rice Pudding Recipe
To make this cauliflower rice pudding recipe good for those of us on the Paleo Diet, you need to use non-dairy milk to help make the pudding creamy. The process of making pudding is pretty simple and the egg whites are the key ingredient to thicken it up.
For flavor, I used cinnamon throughout the process and then added some cinnamon on top at the end. To add the sweetness of pudding, I used 2 tablespoons of Honey and then added 2 more spoonfuls at the end because I wanted the rice pudding to be a little sweeter.
Looking for more Cauliflower Recipes? Check out my collection here:
How to make our Cauliflower Dessert Rice Pudding with Cinnamon (42 sec):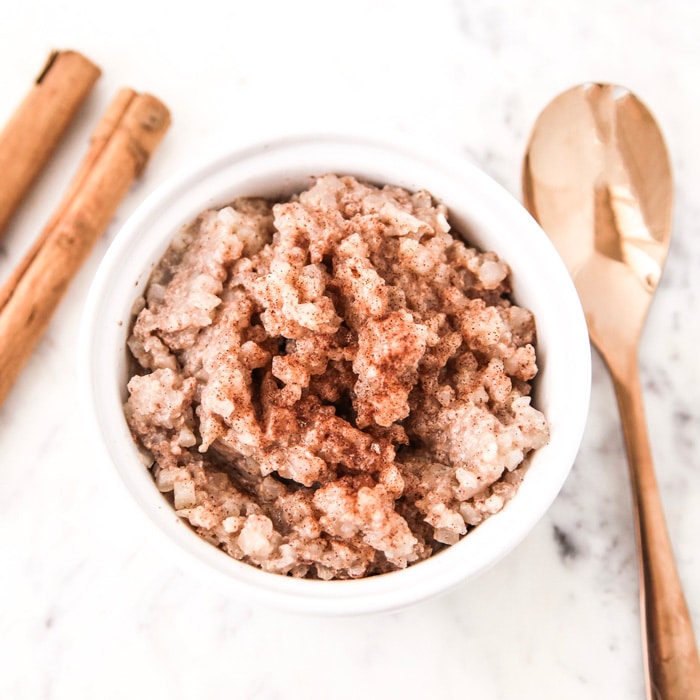 Paleo Cauliflower Dessert Rice Pudding
Extremely healthy Paleo Cauliflower dessert rice pudding with riced cauliflower Paleo diet, vegetarian, low calorie and gluten free
Print
Pin
Rate
Instructions
Combine 1 1/2 cups cauliflower with almond milk into sauce pan that has a cover, turn to medium heat

Add cinnamon and stevia and bring to a simmer for about 4-5 minutes.

Add remaining 1 ½ cup cauliflower until you get desired consistency.

Turn the stove to low.

Stir constantly until thickened for about 4-5 minutes.

Cover and allow to cool over night!
Nutrition
Calories:
115
kcal
|
Carbohydrates:
25
g
|
Protein:
4
g
|
Fat:
1
g
|
Saturated Fat:
0
g
|
Cholesterol:
0
mg
|
Sodium:
143
mg
|
Potassium:
394
mg
|
Fiber:
3
g
|
Sugar:
19
g
|
Vitamin C:
57.8
mg
|
Calcium:
121
mg
|
Iron:
0.8
mg
Share the LOVE
Save this Paleo Rice Pudding Recipe, by saving this image to your Pinterest.